So many of our comic geniuses suffered for their art. After witnessing the story of Doug Kenney and the rise and fall of his National Lampoon, what could have been a pedestrian tale chronicling how one man's depression produced global laughs while it's creator had painful demons that would ultimately take him from us far too soon.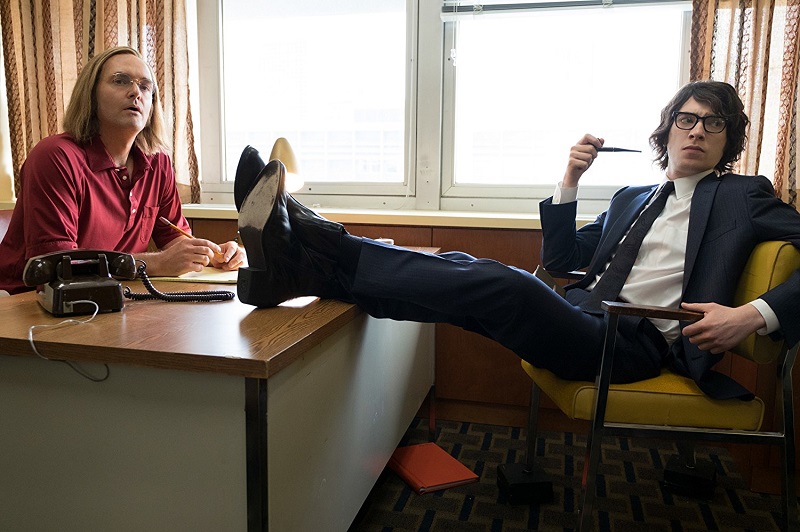 In A Futile and Stupid Gesture, Will Forte is a remarkable as Kenney. We first meet the comic mastermind at Harvard University where he and his partner in comic crime Henry Beard (a hardly recognizable and utterly brilliant Domhnall Gleeson) meet and immediately forge a bond that would be comedically prolific for both and a source of boundless joy for millions who would inhale their hilarious counter culture classic, the magazine National Lampoon. Going into comedy is not something people "out of Harvard" did back then, not like now where it produces a steady stream of folks who make us LOL. After the joys they experienced with their college rag, neither could see going to law school or anything that followed the straight and narrow. It is almost as if the universe gave the two of them little choice but to take the Harvard Lampoon national. As history has shown, it was a fantastically fateful career decision.
It was the late 60s and there was plenty to lampoon. It was also a period that found a nation eager to simultaneously laugh and cry at the headlines of the day and in the hands of Kenney and Beard, they were the right guys at the right time with the right sense of humor.
National Lampoon would become an (practically) instant hit. Success would be a mixed bag for Kenney. It would cost him his marriage and strain his friendship with Beard. The thing is, he was a midwestern boy who was not the favorite son of a Greatest Generation father who never saw what his son was doing as remotely successful. Writing the biggest comedy motion picture of all-time (Animal House) and a beloved classic (Caddyshack) certainly did not achieve that goal either.
Kenney's story is a tragic one, but in A Stupid and Futile Gesture, it is handled it in a manner that the film's subject would approve. He was one incredibly talented, hilarious, individual. Pushing boundaries of what was considered fair game to produce laughs was just one of his many talents. His sense of when to push those envelopes and in what manner was also something that was innate with Kenney.
David Wain directs with a Midas touch, from an expertly crafted script by Michael Colton and John Aboud. They all have author Josh Karp to thank for providing them a sensational manuscript from which to work from as his book not only embodies Kenney and his comedic circles impeccably. It gives us a pitch perfect tone for filmmakers to utilize in their cinematic adaptation.
The cast is sublime. For starters, Arnett – for us – can do no wrong. He is a trailblazing talent. The SNL vet is obviously a fan of Kenney and his portrayal starts and finishes from a point that is pure love. No one in that SNL world could be where they are if not for Kenney. In fact, many of his Lampoon partners in comedy would go on to be founding members of the Lorne Michaels' iconic late-night TV staple. How's this for a who's-who of legends to fill out Kenney's world? Chevy Chase (Joel McHale), John Belushi (John Gemberling), Gilda Radner (Jackie Tohn), Bill Murray (Jon Daly), Christopher Guest (Seth Green), Harold Ramis (Rick Glassman), P.J. O'Rourke (Nelson Franklin), Chris Miller (Max Greenfield), John Landis (Brian Huskey), Rodney Dangerfield (Erv Dahl) and Tom Snyder (Ed Helms, who also serves as the film's producer).
A Stupid and Futile Gesture is for everyone, including fans of National Lampoon, SNL, comedy in general or studies in the evolution of satire in America. It is also one of those films that sneaks up on you. Before even aware, the viewer is drawn in to the story by its compelling narrative. Then, the powerful performances make everyone filling out the story three-dimensional and rich. When all is said and done, one feels as if you have been on a true journey. It is an almost fly-on-the-wall biopic that is so rare to find. Thanks to Netflix and all those involved, A Stupid and Futile Gesture is a brilliant and fruitful endeavor.
Grade: A-