The evolution of writer-director Scott Cooper as a filmmaker has hits a zenith with his latest, Hostiles.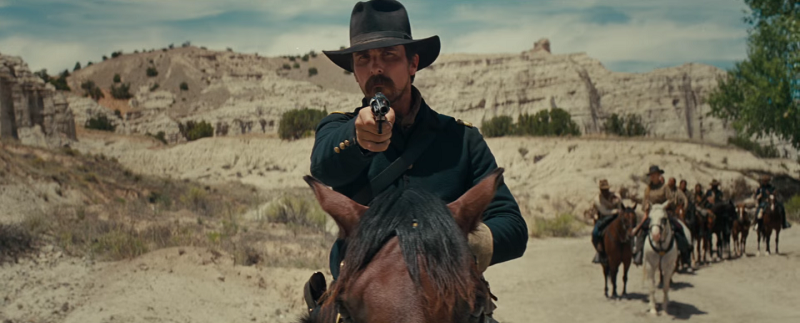 He debuted with the Oscar winning Crazy Heart (Jeff Bridges, Best Actor), then followed it up with the dark and thrilling Out of the Furnace — which first found him making movie magic with Christian Bale. Then, he and Johnny Depp brought the story of Whitey Bulger to the screen in Black Mass. His last two films have focused on crime in the (relatively) modern world of America. With Hostiles, he turns back the clock to the late 1800s, post-Civil War America, and exposes crimes against humanity that come from all sorts of sides that share one thing in common… they all can embody the titular term.
Bale is a decorated Union soldier, who is known for his ability to suppress the Native American population. Usually, it involves their demise. When he is tasked with his biggest life challenge to date, this by-the-books solider almost decides he can't take this order and is forced to do the unthinkable, walk away from a military superior's order. Bale's Capt. Joseph J. Blocker is charged with bringing Chief Yellow Hawk (Wes Studi) from New Mexico where he sits in prison with his family, to his native lands in Montana to die in peace and succumb to the cancer that is slowly, but surely, killing him.
Hostiles and other movies that Oscar ignored!
Along the way the take on a homesteader Rosalie Quaid (Rosamund Pike), who has survived the unthinkable… violently and horribly losing every member of her family, young and old, at the hands of a vengeful pack of natives. Also joining them for a segment of the journey is the always awesome Ben Foster, who portrays a prisoner and former military colleague of Blocker's. He needs to be transported from a military fort to a prison for some seedy crimes. They all form a pack, but a dysfunctional one at that.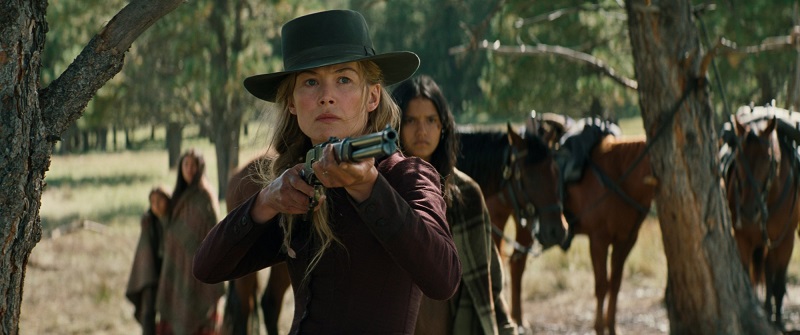 How these souls will survive this journey and be forever altered by the experience is the crux of Hostiles. It could also be said that the viewer will too be influenced by what is witnessed in Cooper's latest yarn that explores the inner workings of what makes us human and the thin line that separates us from the wild animals that share the plains of America with our souls traversing them.
Hostiles goes deep, so much so in fact that it hits really close to home… even though it takes place over a century before our time. The best westerns in history reflect the moments they arrive on screen and that is certainly the case with Hostiles. Cooper gives all his characters arcs that are rich, layered and ever fluid. For example, Blocker is a man set in his ways. Suddenly, he is faced with spending hour after hour, day after day, with a man who personifies his life of slaughter. Suddenly, learning the soul behind the skin color, Blocker has an awakening (part out of necessity, part due to a change of heart) and Hostiles once again shifts its tone in terms of who wears the badge of the title.
The performances across the board are sublime. Bale has never done so much with so little. Cooper clearly wrote the part with his Out of the Furnace star in mind. Further proving that he is the greatest actor of his generation, Bale brings to life a man who is challenged in a way that would shake most men of his time to their core. Yet, he digs deep and smartly sees that the key to survival lies with the man who embodies everything he has lived for snuffing out. It is a complex and compelling turn from a man who is still finding new ways to wow audiences.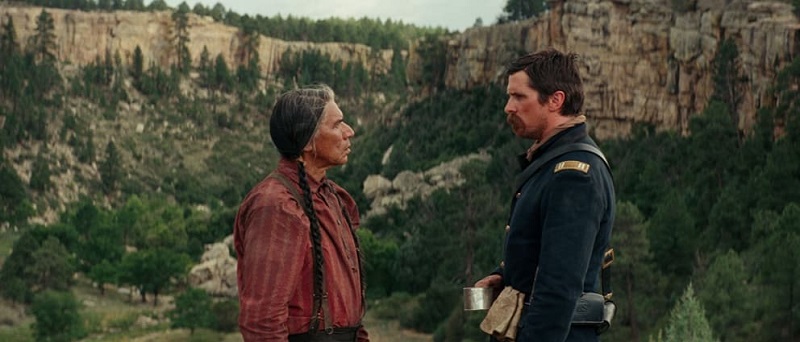 Pike is pure perfection. There is one scene in particular that will break your soul into a million little pieces. She stuns and grabs your heart and yet also is called upon to display a strength that is a worthy tribute to the tens of thousands of frontier women who were brave beyond their time. In many ways, Quaid represents the heart of this motley crew heading north through all sorts of tangled and terrifying webs. Her suffering is palpable and permeates throughout, until she comes to grips with it and embraces the reality facing her and Quaid becomes a force of nature that in many ways holds this group together.
Cooper has once again shown his gifts in spades. His narrative skills are exquisite and as we follow this path that is truly one of redemption for all those involved, the auteur illustrates why three pictures in, he wields human nature conflicts and emotional connections with such aplomb that anything with his name attached heading forward will get us first in line.
Hostiles points out that at any point any one of us can be a hostile. What is so liberating about witnessing this film is that it fills us with hope that at the same time, any single individual can also be the one who squelches that hostility and turns it into a fragile peace.
Grade: A