One of the most anticipated and best movies of 2017 has come home on Blu-Ray, DVD and digital download, Blade Runner 2049. Ridley Scott's 1981 envelope pusher, Blade Runner, changed the way audiences and filmmakers look at sci-fi and that is probably one of the reasons why it took so long to get a sequel. It's hard to follow-up a masterpiece and as such, if you do, you must take your time and do it right.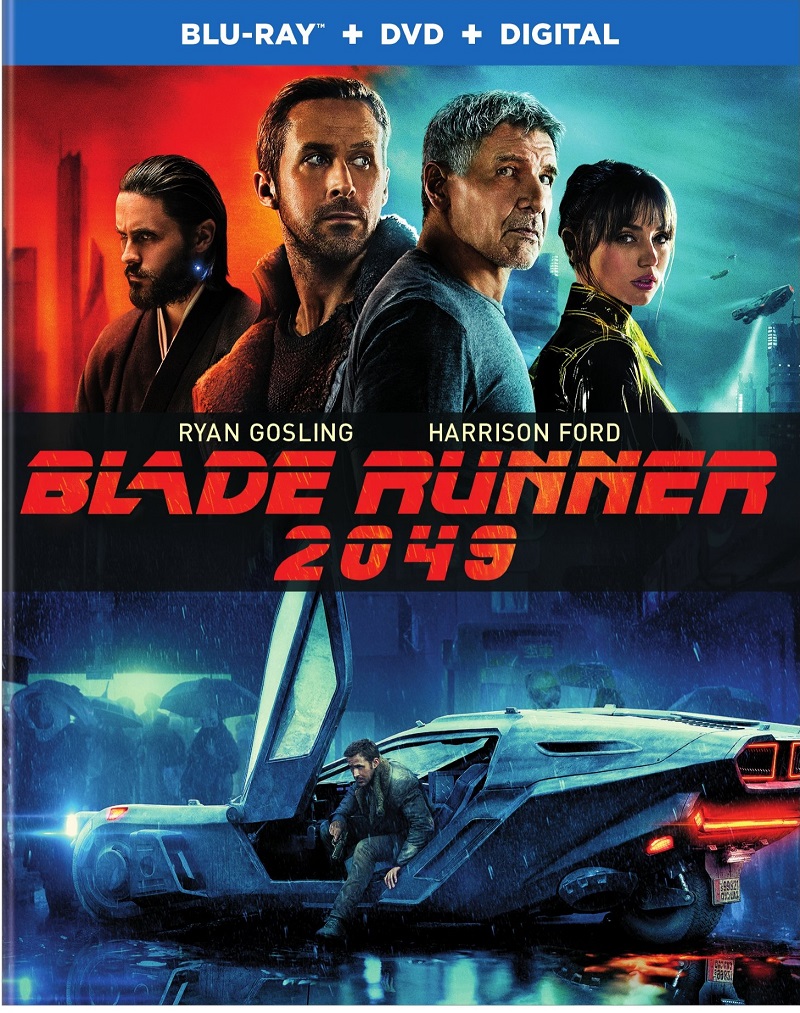 The sequel takes place in the titular year and comes to us from producer Scott. Stepping into the director's chair is the visionary helmer of Arrival, Denis Villeneuve, who works as a visual maestro bringing to life what screenwriters Hampton Fancher and Michael Green crafted. Of course, all this magic is based on characters created by Philip K. Dick in his novel Do Androids Dream of Electric Sheep.
Scott's handprints are still all over this production, thankfully so, as it is not only a visual marvel of the highest order (look for cinematographer Roger Deakins to finally win his first Oscar this March after his recent Academy Award nomination), but it hits in a purely emotional level as well that even the first one could not accomplish.
Ryan Gosling stars as "K," he's a Blade Runner, just like our old friend Deckard (Harrison Ford, returning to his iconic role). There's a bit of a secret that is on the verge of being exposed and it word gets out, there could be an all-out war between humans and replicants. Gosling is charged by Lieutenant Joshi (Robin Wright, stellar as always) to squelch this bit of clandestine information before a match is thrown on a powder keg. Unfortunately, the person he needs most to answer some incredibly pertinent questions is the old Blade Runner, Ford's Deckard — and he hasn't been seen for thirty years.
As stated in our theatrical Blade Runner 2049 review, Villeneuve's latest stunner is a "masterpiece of sizzling sci-fi."
The mystery is as fierce and compelling. As K delves deeper into the unknown, instead of answers, he collects more questions. Along the way, the supporting cast know their role and execute it flawlessly. Of particular note is Guardians of the Galaxy, Vol. 2 star Dave Bautista, Lennie James, Mackenzie Davis, Sylvia Hoeks, Ana de Armas and stealing every scene he's in, Oscar winner Jared Leto. Given that stellar cast, the first bonus feature to salute must be To Be Human: Casting Blade Runner 2049. The just-over seventeen-minute look finds Villeneuve and the film's producers revealing their magic touches for finding the right thespian to inhabit the characters who comprise this mesmerizing spectacle.
Given the mind-blowing, glorious, beautiful and an army of other descriptors we could use to describe the visual experience of Blade Runner 2049, one cannot miss the featurette Designing the World of Blade Runner 2049. Clocking in at over 21 minutes, it is an incredibly entertaining and enlightening wide-ranging look at the Oscar nominated flick. Insight from the cast and creative team enhance what is a sensational look at how the imagination of filmmakers seems to know no bounds these days in terms of what can be achieved with practical set technology and CG.
For those who want more from the world of Blade Runner 2049, check out Prologues. These are three "prequels" that were first offered online to audiences eager to get a taste of what was coming their way with the full film when it released in theaters in October. Each one is produced by Villeneuve and before a second viewing of the film itself, dive into these gems to enhance the overall Blade Runner experience.
Want more? Well then, you will want to dive into 2022: Black Out, an anime helmed by Shinichiro Watanabe. The short chronicles the titular power outage that is referenced often throughout the film itself. Also, a "don't-miss" is Ridley Scott's son Luke's live action shorts, 2036: Nexus Dawn and 2048: Nowhere to Run. Each will give audiences more to digest in terms of the world-creation that exists in Blade Runner 2049.
Speaking of the Blade Runner universe, Blade Runner 101 is basically a nice series of featurettes that explore the various nuances, history and film design of the Blade Runner landscape.
Film Grade: A+
Bonus Features: A