Stephen King has never had an adaptation of one of his terror tales quite like what we got in It. The film, which landed in October of 2017, banked $327 million in the United States alone, making it the most successful King page to screen effort by almost five times! Now that it has come home on DVD, Blu-Ray and digital download, one must ask if all that theatrical triumph makes it a must-own home video.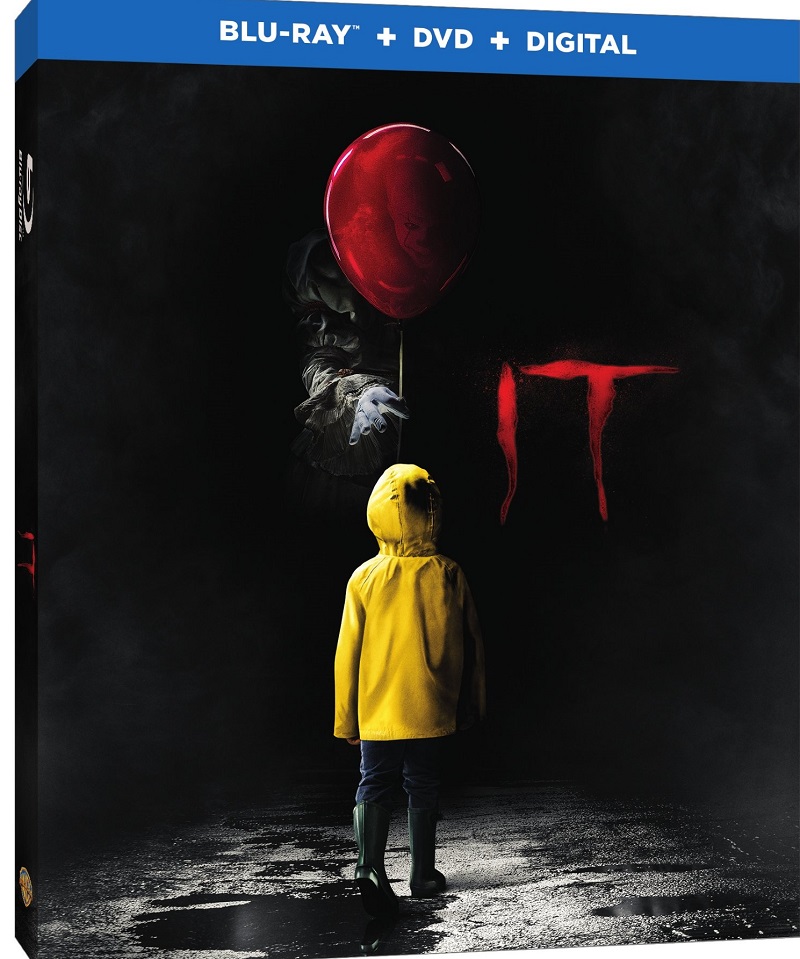 The answer is a resounding yes that should be screamed from the hills as loudly as anyone who comes face-to-face with Pennywise!
What is so bloody fantastic about It is that it was not just a film adored by audiences, as evidenced by the box office success (add in another $372 million in international sales), but one treasured by critics alike. In fact, it landed on our Top 17 Movies of 2017 list as it did with many other publications.
One could go deep in explaining why the film was so exquisite, as we do in our theatrical It review. But it comes down to a few major pillars of strength that came together like a perfect storm of cinematic awesomeness.
Director Andy Muschietti has a handle on King's chilling narrative as few helmers ever have and as such, was able to paint a masterpiece from the perspective of a skilled artist who also happens to be an enormous fan of the master of horror's work. Screenwriter Cary Fukunaga could not have "gotten" the storytelling sentiments of King better than if the Maine-based author wrote the screenplay himself. Then, there is the cast that was impeccably put together by a casting team working at the highest caliber.
As the crux of the story, at least this first chapter of the planned two-picture chronicle, is focused on The Losers Club — a group of early teenaged kids, it was imperative that the right young thespians were tapped to embody the souls that began their journey as mere thoughts in King's mind. Jaeden Lieberher, Jeremy Ray Taylor, Sophia Lillis, Finn Wolfhard, Jack Dylan Grazer, Chosen Jacobs and Wyatt Oleff join forces to work strokes of genius that has us emotionally vested in these kids that only added layers upon layers of power to an already riveting tale.
Then there's Bill Skarsgard as Pennywise. What can be said about one of the most chilling portrayals of pure evil that the silver screen has ever produced? He brings an innocence to the dancing clown character that makes what he does all the more petrifying. He also manages to say so much with actually uttering so little… a rare feat in the realm of villainy embodiment. It is a haunting portrayal that is one for the ages.
The town of Derry, Maine has been living with a tragic secret for centuries. Children go missing and are never heard from again. Police are mystified, and the locals just seem to accept that this is just the way life rolls in the small New England town. There is a curfew every night, but it does not seem to stop the worst horror that any parent can imagine. When our lovable losers decide they must be the ones to stop it when one of their own's little brother is taken, Pennywise may have met his match… or has he?
As he is the title character and arguably the pulsating heart that drives the scares, we have to start our look at the It bonus features with Pennywise Lives! The spotlight shines on Skarsgard and goes deep on how the actor found the character and what he did to bring nuances he discovered on the pages of the King book to life in the form of that crazy clown. It is a terrific look at an actor working at the highest level meeting a character he or she was born to play. After enjoying this featurette, don't be surprised if you are moved to turn around and hit play and witnessing It all over again!
The Yin to Pennywise's Yang is those young teens who find the mettle to do battle with a centuries old evil doer who prays on the fear of children. The Losers' Club simultaneously introduces us to the performers who portray these little heroes. The most fascinating aspect of the featurette is witnessing how these "kids" came together and bonded as a group, spawning a chemistry that clearly worked on screen and was terrifically organic off screen.
For fans of the legendary author, you do not want to miss Author of Fear. King reveals some long-held secrets about the origins of the It tale and in a rare moment of candidness, speaks to his gift for portraying younger souls and how they face fear, versus how adults react to it. It is an enlightening and entertaining journey inside the mind of the master.
Film Grade: A
Bonus Features: A