After the success of The LEGO Movie and The LEGO Batman Movie, expectations could not be higher for The LEGO Ninjago Movie. The film arrives with a legion of fans who eat up every little thing about the Ninja fighting warriors who selflessly contrast their everyday school activities with being superheroes saving their hometown. Although it is not the best of the LEGO movies, it is a delightful and fun animated ride that should please Ninjago fans who will want to bring home the newly released on Blu-Ray and DVD.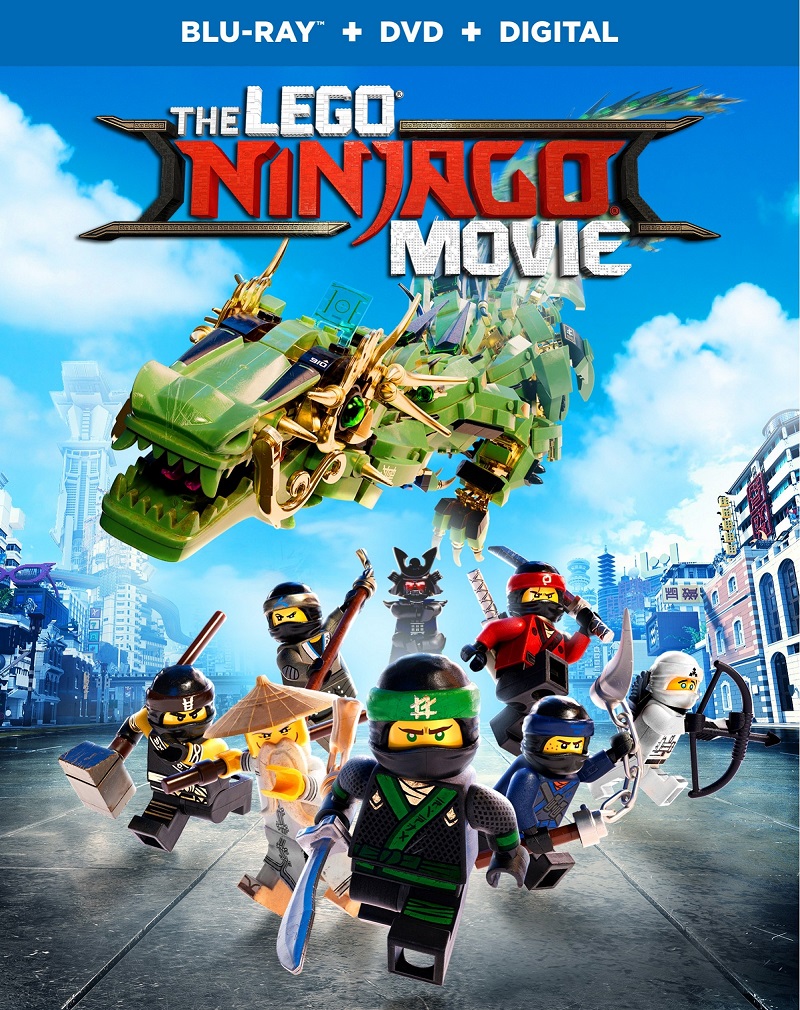 Where The LEGO Ninjago Movie succeeds first is with its casting. By assembling a voice cast that includes Dave Franco, Justin Theroux, Olivia Munn, Kumail Nanjiani (The Big Sick), Zach Woods, Michael Pena, Fred Armisen, Abbi Jacobson and the iconic movie martial arts master Jackie Chan.
Franco is Lloyd (pronounced Le-loyd by our villain, Garmadon (Theroux)) lives with his mom (Munn) and is happy simply living his days going to school and having fun with his friends Kai (Pena), Cole (Armisen), Nya (Jacobson), Zane (Zach Woods) and Jay (Nanjiani). They're normal kids, except for one thing. When evil rears its head (usually it's Garmadon's head that is doing the devilish deeds), they swing into action as a secret gang of ninjas who have always come out on top in the battle between good and bad. But, Garmadon is getting closer and closer to succeeding in his ultimate goal, the destruction of Ninjago.
The ninjas are not alone, as they are led and mentored by the wise(cracking) Master Wu (Chan)… who brings decades of wisdom to their martial arts growth. Things should be adding up to a recipe for ultimate victory over evil, but there is something that is complicating things just a tad. See, Garmadon is Lloyd's dad! Over the course of finding the courage to stop this villain once and for all, our hero collective will find that there is no substitute for working together and through their combined strengths, it is then that they stand the best chance for bringing their hometown of Ninjago true peace and Zen-laced tranquility.
As was the case with The LEGO Movie and The LEGO Batman Movie, the bonus features are aplenty and are as enjoyable as the film itself and an immensely informative look at the making of another animated gem from Warner Bros.
What sets this LEGO movie apart is its brilliant use of martial arts and Rumble in the Bricks dives into the astounding attention to detail that filmmakers brought to make these LEGO figurines come to life in a manner that is worthy for the legendary fighting form. Chan wasn't always involved in choreographing the fight sequences, but as soon as he started recording his vocal contributions and got an eyeful of early visual efforts, he volunteered his efforts and his iconic footprints went all over and elevated every single fight sequence. Of course, anyone who is fan of Chan knows that the moniker for this featurette is a play on his 1995 classic, Rumble in the Bronx. That LEGO humor comes through once again!
Team Supreme: Building Ninjago shines the spotlight on the main filmmakers and shows how they brought this brick-based world to life with unique locations, character design, the unique voice acting team and the fierceness of a feline.
A total blast arrives in the film of several new LEGO animated shorts with Shark E. Shark starring in Which Way to the Ocean, Chan's Wu gets a moment all to himself with The Master: A LEGO Ninjago Short and Zane tackles comedy with Zane's Stand Up Promo.
One thing we adore is a great gag reel or outtakes section, especially for an animated movie because it shows the lengths to which filmmakers behind the work will go to keep entertaining its audience, long after the film has left the theater. The LEGO Ninjago Movie comes home on DVD and Blu-Ray and delivers an almost five-minute series of "gaffes" that will certainly produce its fair share of LOL moments.
Wonder how deep the fandom of the Ninjago world goes? Don't miss the featurette Rebrick Contest Winners. It is a series of fan-made short films that illustrate how passionate viewers of the Ninjago world are and they are all frankly terrific.
Those very fans will be thrilled with the included LEGO Ninjago TV Series Sneak Peak, an eleven-minute-plus sneak preview at the upcoming TV series.
For those who appreciate a good audio commentary, director Bean, editor David Burrows, layout supervisor Devin Scott, animation director Matt Everitt, associate producer Kristen Murtha, production supervisor Alex Kauffman, editors David Burrows, Garret Elkins, Ryan Folsey, Doug Nicholas, Todd Hansen, John Venzon, music executives Nikki Sharon and Amanda Narkis provide several angles of awesome insight into the making of the latest LEGO movie that has charmed audiences the world over.
Film Grade: B
Bonus Features: A