It has been a pretty banner year for the cinematic universe, particularly for films that scare us silly. The horror genre knocked us out repeatedly in 2017. Even in the normally dormant first few months of the year, we were shocked and awed by Split and Get Out. By October, it was all about It, which resonated with audiences on a wide scale not seen in years.
Action movies got a pump in the arm of awesomeness as story reigned supreme and showed, just like horror, that a genre does not matter to audiences if the dramatic journey involved features compelling characters and also possesses a strong emotional investment by the viewer, thanks to smart writing. Wonder Woman, Logan and even Baby Driver managed to pull our heart strings while still sending our hearts racing. Speaking of ticking… who could forget the clock winding down to destruction through the power of Christopher Nolan's Dunkirk?
The free spirits of independent cinema came alive in 2017 in such a way that truly blew us away. From The Big Sick to Call Me By Your Name, emotions ran high and audiences left theaters wrapped in a cozy embrace of mesmerizing movie magic.
These are just a few examples of the varied and extraordinary year that is hanging it up in mere days. Will the above films make our list of the top 17 of 2017? Read on and see…
17. The Hero
Sam Elliot was born to do much on the big screen, but his turn in The Hero — a role written specifically for him — is his career crowning achievement. As a washed-up Western movie star who is confronting the worst of news, he goes about his days as a voice actor and doesn't mind basking in the glow of adulation from those who remember him solely for his titular role from decades prior. It is a powerful story that transcends genre, time and the reality of the world outside which shines a spotlight on the true heroes of our world — those who love us, are endearing to us and most of all, challenge us to be better, no matter the time left on life's clock. The Hero is one of those rare films that takes its audience away from their present, past and thoughts of future. Yet, it also does not shy away from ignoring the landlines that the glorious gift of life possesses.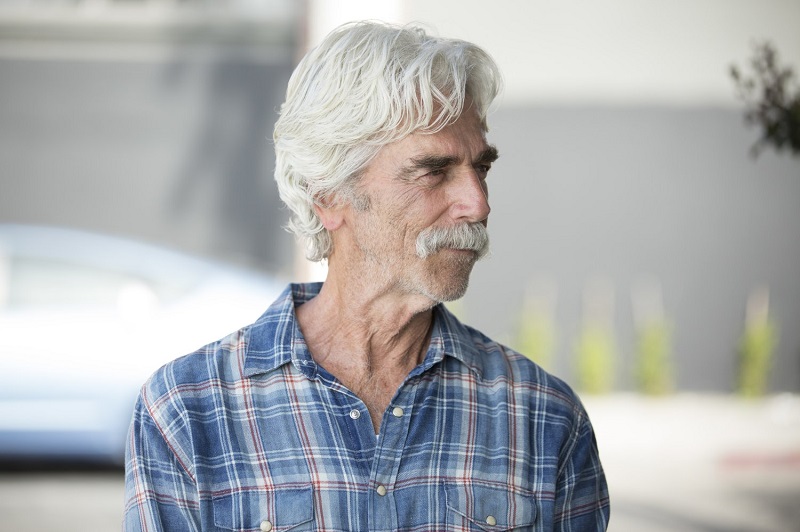 16. Battle of the Sexes
The 70s were a time of momentous change. In fact, as revolutionary as the 60s appeared to be, in fact it was the following decade that did more to alter the landscape of the world's culture. Capturing that seismic societal movement on the gender relations front better than any film has in years, Battle of the Sexes chronicles the lead up to and the global event that was the tennis match of the title which pitted noted chauvinist and Grand Slam winning star Bobby Riggs (Steven Carell) against the top woman player in the world in Billie Jean King (Oscar winner Emma Stone).
What was seen as a joke by many and an easy buck by the male participant — the game was televised on ABC to millions upon millions — and became the next stage of the war for women's liberation. The cost for King could not have been higher — a female's place in society hung in the balance. Carell is Oscar nomination worthy as Riggs and manages to emotionally humanize a figure that could have been impossible. Stone once again shows why she is one of the best of her generation. Between the two of them, Battles of the Sexes is a triumph of the highest order. Game. Set. Match.
15. Logan
We're in a superhero renaissance. There is no question. Since The Dark Knight, the milieu of the super human has delivered on a level that is usually reserved for the films of the highest excellence. Logan, the latest solo chapter in the Wolverine series, starring Hugh Jackman at his most brutally raw, hits at a cellular level and sticks with you longer that a superhero film has a right to! The highlight of this fantastic film, that has many, is Patrick Stewart (don't get us started on the breakout moment that Dafne Keen delivers as Laura). His heartbreaking turn as a hobbled, shell of himself Professor X is haunting and should reverberate throughout Oscar season as nominations are being handed out. Let's think for a moment. Remember the last Supporting Actor to score a nod for being in a superhero movie? Yup, Heath Ledger… and he won the little golden statue.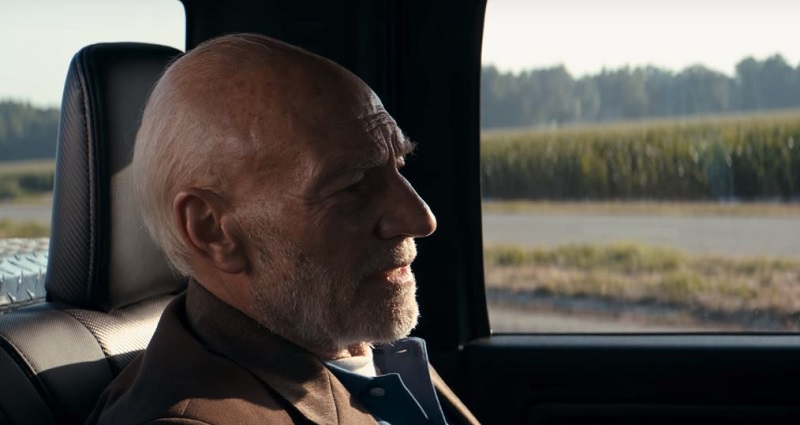 14. Dunkirk
When Christopher Nolan sat down with his composer Hans Zimmer and informed him that he was free to do whatever he saw fit when penning the score to the true World War II story that the legendary director was crafting. But, there was one suggestion. Nolan wanted the tick-tock of a clock to permeate the percussion. Zimmer utilizes the ticking time motif in the most literal sense and throughout Dunkirk, the audience knows that that elusive concept of time is of a premium. Four-hundred-thousand British soldiers are surrounded and trapped on the French beaches of Dunkirk, facing certain death.
Is Dunkirk Academy Awards worthy?
As the Germans exponentially approach from all sides, the largest civilian maritime rescue of all time gets underway. Nolan has got himself a nail-biting premise and in his expert hands, it scores on every level.
13. Colossal
Colossal is a quasi-horror movie that has impeccable comedic under and overtones. It is the rare brilliantly self-aware flick that knows that it is straddling a myriad of genres and manages to execute each better than a majority of films that firmly sit in their respective tropes. Colossal totally shocked The Movie Mensch with its ability to break all the rules, invent some new ones and show its audience one of the most delightfully divine movie moments of 2017.
Anne Hathaway stars as Gloria, who leaves her Manhattan high life and returns home to upstate, rural New York. As she reconnects with some high school friends (including a sublimely cast Jason Sudeikis) horrible things begin to happen a half a planet away. Soon, our heroine realizes that she is the cause of all the devastation on the other side of the world. Nacho Vigalondo wrote and directed the surprise sensation of the year and instantly became a filmmaker whose name alone will get our attention.
12. Wind River
With his latest role, Jeremy Renner gives us the greatest performance of his career and yes that is saying something — given he's the man who blew us away with his turn in Don't Kill the Messenger. In Wind River, he plays a Wyoming Fish and Wildlife tracker who is sucked into a murder investigation on a Native American reservation. When a rookie FBI agent (Elizabeth Olsen) is sent to lead the charge for justice, the dark depths where this crime goes will send lives of this small community into a tailspin of tragedy and innate human evil. Director Taylor Sheridan (screenwriter of Sicario and Hell or High Water) makes a dazzling directorial debut and shows that his evolution as a storyteller is on a stunning pace.
11. It
We all floated. The reaction to Stephen King's It upon its release was universal. It grabbed us, critics and audiences alike, and never let us go. Director Andy Muschietti's horrorshow has forever latched its red-nosed grip on our soul. Its astounding nature comes to us because of several elements. First and foremost, King's writing has never been more illuminatingly brought to life on the silver screen. The director breathed magic into the script penned by Cary Fukunaga — who delivers the most King-friendly script since The Green Mile.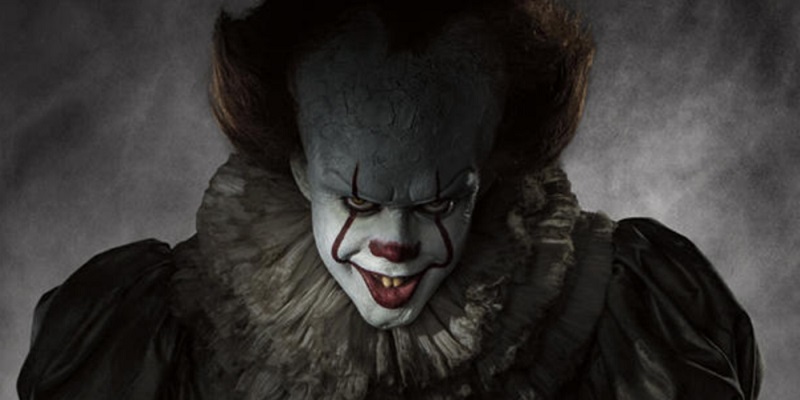 Second, Pennywise has always been one of pop culture's most evil and devilish of villains. But with Bill Skarsgård slaying behind the make-up of the evil clown, the character can firmly take its seat next to cinema's most iconic baddies.
The film also works so incredibly because of the decision to split the It epic into two parts. The first, which arrived in cinemas this past fall, would focus on the teenage kids — the lovable losers. A couldn't have been better cast of characters charmed us all and now, the world is ready for part two.
10. The Disaster Artist
James Franco has been on a mission and it is one the comes from supreme intelligence. Yes, I'm serious. He's directed what were essentially two straight to home release films, In Dubious Battle and The Institute. Those were merely training grounds for the story he was born to tell as a helmer, The Disaster Artist. The righteous comedy follows the unlikely and most assured American success stories that you have ever seen. Franco not only directed but produces and stars in the film as Tommy Wiseau, the man who gave us what is labeled "The Worst Movie of all Time." The Room is also something else, an enormous cult hit.
Franco captures the insanely wealthy and extremely eccentric filmmaker and brings along a few friends to help fill in this rich tapestry of humor and Hollywood hijinks of the highest order. Dave Franco stars as Wiseau's BFF Greg, and delivers his career best turn. Seth Rogen, Alison Brie, Ari Graynor, Jackie Weaver, Zac Efron and Josh Hutcherson each bring their own charmed gifts to the flick that begins our top 10.
9. The Big Sick
Kumail Nanjiani and Emily V. Gordon's love affair has the happiest of endings. But it started with the quite serious, tragic and insanely hilarious of beginnings. The married couple sat down and put pen to paper, wisely believing that their amorous journey would serve cinema audiences well. The smash hit is also an incredibly solid entry for the best films of the year.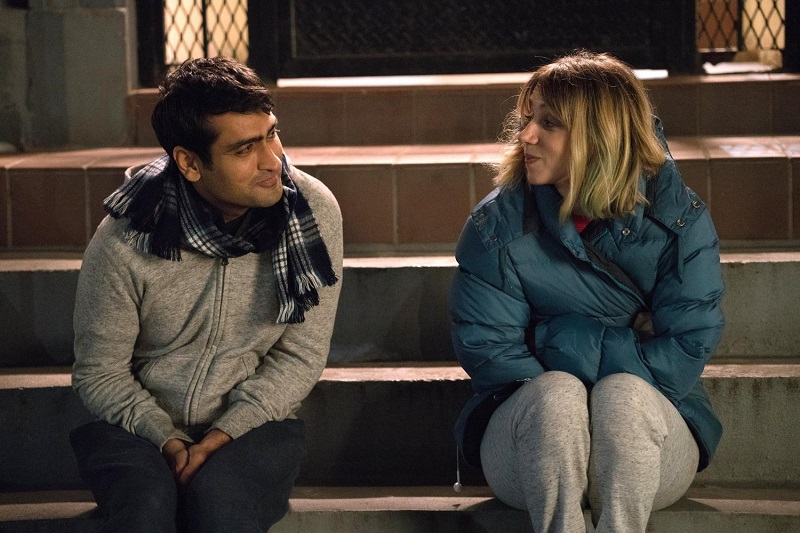 Nanjiani and Gordon dated and fell in love. Then, Kumail's Pakistani family's pressure to marry a girl from their own culture crept in and before long, the pair were finished. Gordon would get very sick and with a situation demanding emergency attention, Nanjiani was called to Gordon's bedside where she sat in a coma. Through meeting her parents (perfectly played by Ray Romano and Holly Hunter), our protagonist realizes that losing Gordon was the biggest mistake of his life. Nanjiani's gifts as a comedian shine through as there are scenes that are among the most hilarious of the year. Zoe Kazan rocks as Gordon and her chemistry with the man who plays himself on the big screen is electric and makes The Big Sick an utter and absolute joy.
8. War for the Planet of the Apes
The third chapter in most trilogies hardly ever wind up on "Best of" lists. Hollywood history is littered with such tales of tragic trilogy conclusions. Lucky for fans (and 20th Century Fox), War for the Planet of the Apes is a stunner on multiple levels. The film grabs you by the lapels, then the heart and lungs. It hits from an electric emotional connection that is usually reserved for sweeping historical epics. The knockout movie riveted in the most divine of ways. Matt Reeves' triumphant closing chapter wraps things up cohesively, but also with a terrific hand-off to the original films of decades prior.
7. Wonder Woman
As we stated in our theatrical Wonder Woman review, all that needs to be said about the astounding nature of this movie involves two words… Patty Jenkins. There should be five words… Patty Jenkins and Gal Gadot. The origins story that Wonder Woman fans have been clamoring for for 75 years lands as one of the best films of the year that was because of Jenkins direction and Gadot's "born-to-be" inhabiting of one of pop culture's greatest heroines. But it also excels because of the rich story triumphantly penned by Allen Heinberg. There is a moment in Wonder Woman that will produce tears that is one of the finest executed scenes in 2017. Rarely has "No Man's Land" of World War I Europe produced such an emotional response.
6. Lady Bird
With Lady Bird, Greta Gerwig has delivered one the most honestly bare and deeply personal looks at the birth of an adult. The actress wrote and directed Lady Bird and it features what is very likely the Oscar winning performance of Saoirse Ronan. The Irish actress and American auteur join forces and deliver one of the great Hollywood one-two punches of the year. Rarely does a thespian provide a mirror to her director as astonishingly astute as Ronan and Gerwig achieve with their treasure.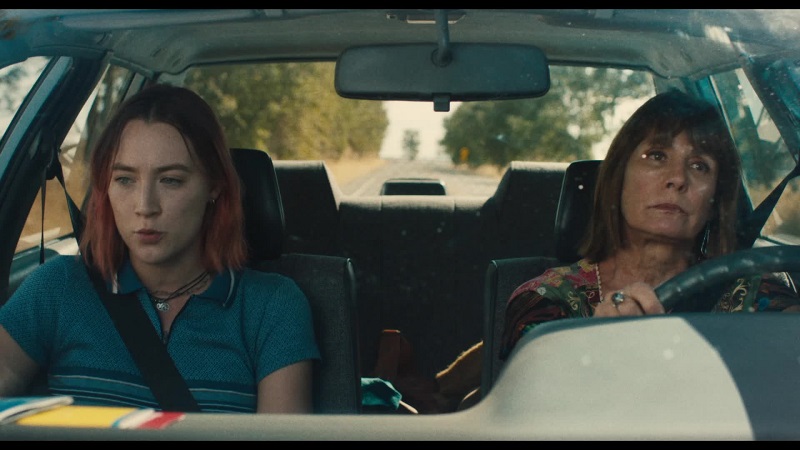 From her song choices, which are uniquely pointed and timely to enhancing the 2002-set time period, the visual tapestry crafted by her cinematographer, Sam Levy, to her use of the simplicity of silence, Gerwig has made a seismically sensational directorial debut. The piece of art that she has crafted is one that sagely captures the pain of striking out on one's own, away from one's family and also manages to a slice of life delight.
5. Baby Driver
The best action movie of the year is also one of the best films of the last twelve months. Baby Driver careens into film history from Edgar Wright with its soundtrack serving as tempo setting dramatic structure. Ansel Elgort is the main man, the driver whose real name is Baby and by driver we are describing the best you have ever seen. Elgort has put himself on the map with this astonishing portrait of a man who is literally always connected to music. Comes in handy for us as he is the getaway driver for a series of robbery crews and Baby's soundtrack is ours as well for the sizzing adventure.
Wright utilizes the music to illuminate so much more than scores usually are asked to. Every gun shot, tire scream… anything, is timed to a beat coming from Baby's iPod. In addition, Wright has orchestrated some of the most insane car chases and action sequences of the decade.
Even though he is on the wrong side of the law, we cheer for Baby and not only want him to get away with these crimes, but simultaneously find love with a charming waitress from his favorite diner, Lily James' Debora, and break away from this life. Wright should be anointed maestro with his latest gem, one that features a marriage of movie and music that is one for the ages.
4. Three Billboards Outside of Ebbing, Missouri
Writer-director Martin McDonagh established something when he delivered his movie debut, In Bruges. He became one of the few helmers whose name alone gets this writer into the theater. After his bombastically brilliant Seven Psychopaths, McDonagh has turned up the heat with his latest, Three Billboards Outside of Ebbing, Missouri. The tale of a mother (Frances McDormand), who finds herself at her wit's end because the local police in her town have done nothing to bring justice to her as she mourns the murder of her daughter. So, she buys ad space on three billboards on the way into the small midwestern town and that sure gets local law enforcement rattled — to say the least.
Woody Harrelson and Sam Rockwell deliver Oscar nomination worthy supporting turns. The latter must hear his name called when Academy Award nods are announced in January. Rockwell has a character arc in Three Billboards that actors drool over. With his talent, the most treacherous and triumphant risks he takes on the silver screen pay off in film fireworks. The film will also touch on a deeply moving and emotional level. It is about parents and children, right and wrong, justice and evil and above all else, the uniquely human characteristic that is universal… our humanity.
3. The Shape of Water
The Shape of Water is a beautiful film that is also as wildly romantic as it is ambitious. Guillermo del Toro has delivered a passion project that rarest of things, spawns passion from its audience. This is a story that will be spoken of for decades for its thick resonance. Sally Hawkins stuns as a mute who finds doing what's right also can lead to finding love in the most unexpected of places. The filmmaker should surprise no one with his deep visuals that will permeate the soul. But, what is surprising his how this Cold War set story triumphs in how it incredibly captures a period in history when the line between us and them could not have been more defined.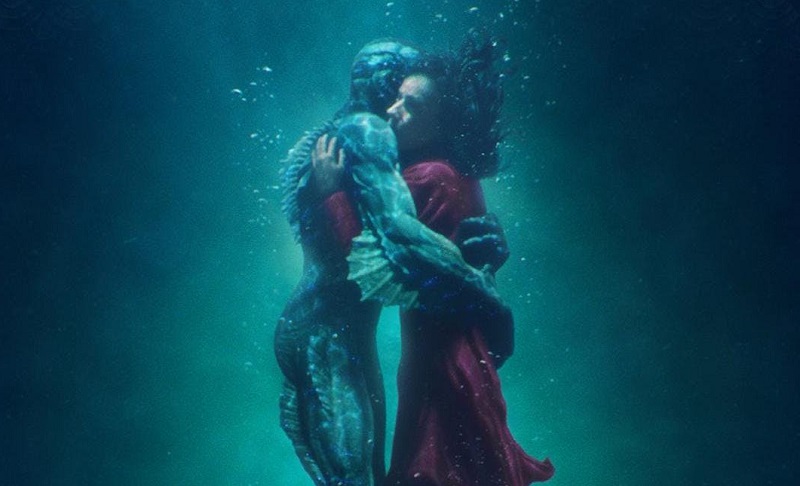 Sure, Andy Serkis may have delivered the mo-cap performance of the year in the earlier mentioned War for the Planet of the Apes. But Doug Jones' work in del Toro's film certainly rivals it. He and Hawkins have priceless chemistry and form a bond that will be cemented in your heart forever, joining some of cinema's great couples. Do we have to say how deeply divine Michael Shannon is as our villain or does that just kind of go without saying at this point that he is always awesome?!
2. Call Me By Your Name
Rarely has first love been captured with such an adoring hand as it is by Luca Guadagnino in Call Me By Your Name. James Ivory's screenplay comes alive in a vivid beauty that makes you fall in love with the art of moviemaking as our two lovebirds find love and journey down its righteous path. Timothée Chalamet stars as Elio, the son of an American academic living in Italy. When Oliver (Armie Hammer), an intern, arrives to learn from the master — slowly but surely sparks fly between the two young men in a manner that is sublimely beautiful.
Guadagnino and Ivory have crafted a love letter to the miracle that is that most affectionately strong and potentially crushing of emotions, love. Stories of the heart come and go, but count on Call Me By Your Name to be on everybody's "lush romantic movies" list for decades to come.
1. Get Out and The Post
Yes, there is a tie this year for the Best Movie of 2017. Each is equally as important as the other and I find it fitting that the films arrived as bookmarks to the year that is fading into the past. Get Out landed on screens in February and quickly became on of the best reviewed movies of all time (per Rotten Tomatoes) and one of the most successful directorial debuts in history for writer-helmer Jordan Peele. The satirical look at race through the lens of a devilishly modern horror flick is the perfect movie on many levels.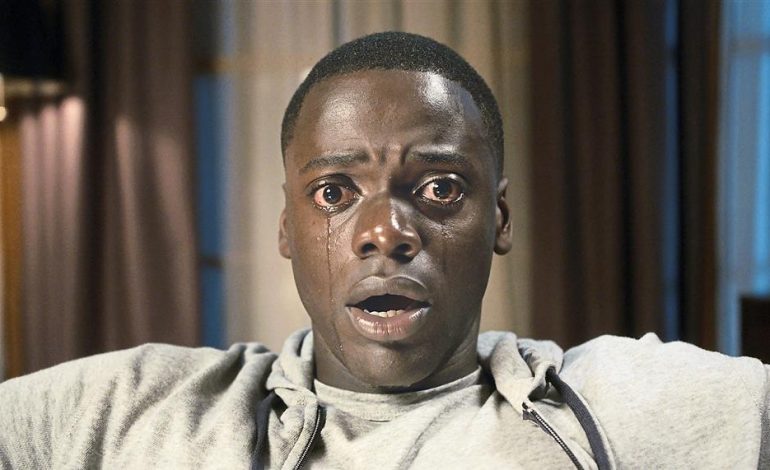 Get Out is humorous. Get Out is pointed. Get Out makes us feel uncomfortable and yes, Get Out is utterly frightening. What makes it so terrifying is that in many ways its foible could be real. It could happen today. Get Out looks at race relations in America and manages to do something that shows why the medium of film is the most effective at putting a mirror to ourselves, letting us know that we absolutely must do better.
The Post arrived at the end of December and closed out the year. It too placed a shaming mirror to our society, much like Get Out.
Steven Spielberg's latest finds the legendary filmmaker dishing out an entertaining and thrilling historical true tale that also informs us that we once again have not learned from history. Yes, we might be repeating it right now.
Tom Hanks stars as Washington Post editor Ben Bradlee, who is faced with an ethical, legal and moral dilemma when classified Pentagon documents land at his newspaper. If they're published, it would expose the lying of U.S. presidents for decades.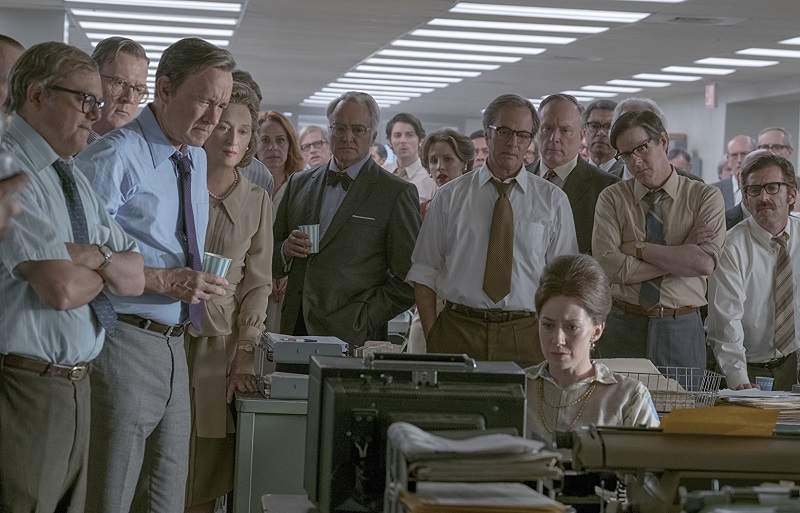 The decision of whether to print or not truly sits on the shoulders of Kathryn Graham (Meryl Streep), the first female publisher of a large metro newspaper. Together, Spielberg, Streep and Hanks deliver a film that should scare millions into action. The most thrilling thing about The Post is that much of what President Nixon tried to do to the press for exposing executive branch lies seems like it is torn from today's headlines — not from the middle '70s.
Honorable Mentions: The Beguiled, Girls Trip, Molly's Game, Logan Lucky, Wonder, Atomic Blonde, The Square, Good Time, Star Wars: The Last Jedi, The Lost City of Z, The Greatest Showman and Free Fire.