Jake Gyllenhaal is one of our great actors. That is certainly solidified in its factual nature by his performance in the Boston bombing true tale, Stronger.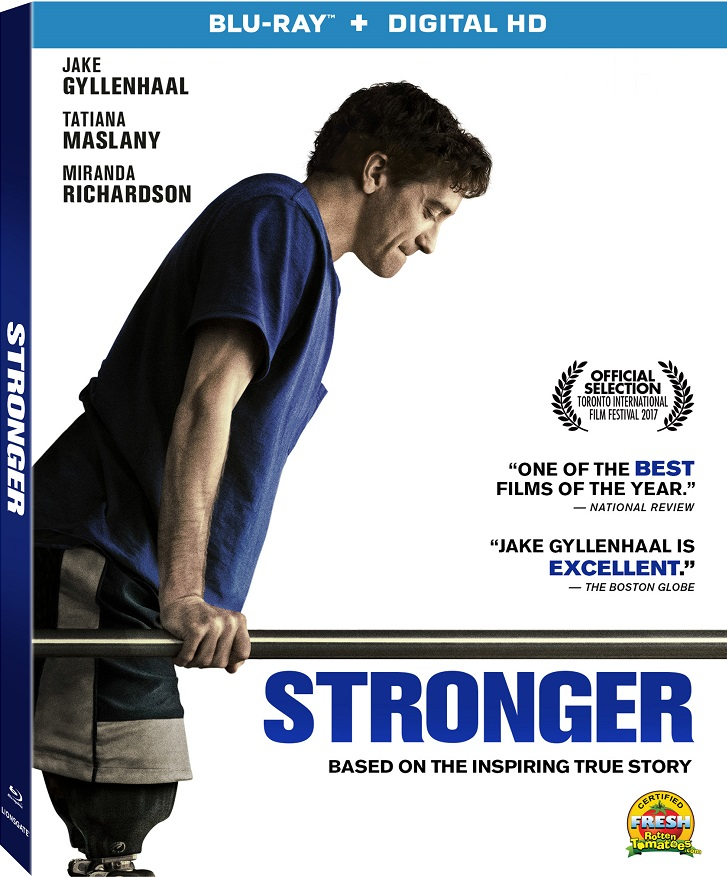 The film, out now on Blu-Ray, DVD and digital download, chronicles the simultaneously heartbreaking and heart-affirming story of Jeff Bauman. The Bostonian was at the finish line of the 2013 Boston Marathon and had his life changed forever when a terrorist's bomb went off and took both his legs.
Three civilians would perish on that fateful day, while 264 people were injured. The way director David Gordon Green (Our Brand is Crisis, Pineapple Express) lays out his story, Bauman is a perfect symbol for those who triumphed over terrorism and, literally, got back up and marched forward after being blown off their collective life paths.
Bauman was trying to prove something to his love, Erin (Tatiana Maslany) on April 15. After failing to be there more than he was there, it turns out the time he chose to show up for their relationship would serve as one of the more fraught with fear days in American history.
Upon waking up in the hospital, he would recall an important clue. That piece of information would send the investigation to places that would result in the ultimate of justices.
As Green doles out information and emotion, from John Pollono's script, Stronger is an even paced delight that manages to take its audience on an emotionally charged journey of fate, fear, depression, hopelessness, strength and that unmistakable Beantown bravado-laced unflappable strength.
All involved owe Gyllenhaal everything. He turns in the performance of his young career that should serve as a benchmark for everything he does heading forward.
Watching the way that the actor makes us truly sense Bauman's pain — physical and mental — is nothing short of deeply personal triumph of the human spirit moment. His gifts, first promised in the late 90s with October Sky and Donnie Darko come through in every frame in Stronger. Witnessing Gyllenhaal get Stronger should do the same for each one of you.
The film's script comes from Bauman's book and as such, the personal touches of the true survivor and real-life American hero are strewn throughout. Like Peter Berg's Patriot's Day before, the film explores a dark day but does so in a manner that takes what could be a caricature of the Boston soul and instead delivers a model for a nation that faces life and death challenges every single day since terrorism struck our shores on 9/11.
Sadly, there are not bonus features to speak about for the brilliant film that deserves Oscar love, there is merely a single bonus feature.
Faith, Hope & Love: Becoming Stronger is a behind-the-scenes featurette that is worthy of the man who inspired a city and a nation. The almost thirty-minute making-of doc is at its best when we are hearing from Bauman himself. The power of the film is enhanced by hearing his first-hand account of the horror and hope that filled his life in the last four years.
Don't be surprised after experiencing Stronger, and the lone featurette, if one feels a bit high on the power of the human spirit.
Film Grade: A
Bonus Features: A (even if there is only one!)