That "despicable" villain Gru (voiced brilliantly by Steve Carell) is back in Despicable Me 3. There's a huge addition to the series in the film, out now on DVD, Blu-Ray and digital download, Gru's twin brother Dru (also voiced by Carell) gets reunited and the two hope to become the greatest criminal masterminds of all time.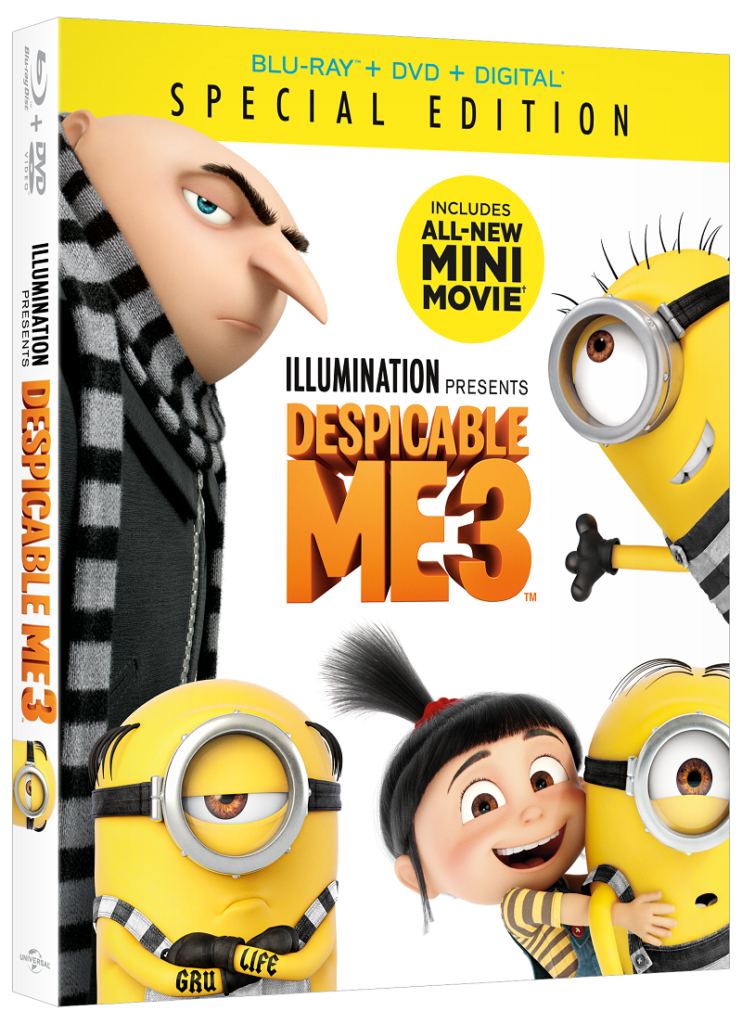 Wait, you say… Gru had turned to the good side of the villainy spectrum. Well, things didn't go that well at work so remembering how he and his Minions were the best at being bad, with a little influence from his newly discovered sibling, Gru tackles the dark side. Hey, a dad must keep a roof over the heads of his three adorable adopted daughters, am I right?
There's competition in the villain department and Gru and Dru are having none of it. It arrives in the form of a former child star who is seeking world domination, as most former child stars are prone to do. The aptly named Balthazar Bratt (voiced by Trey Parker of South Park fame) is stuck in the 80s and as such, the audience is treated to some serious flashback finery that we wish had been pushed a little further. When you have Parker voicing your villain, why not let the guy loose. He feels a bit restrained in this role, as we explore deeper in our theatrical Despicable Me 3 review.
Besides Carell and her performance, more on that in a moment, the big draw here for the franchise is the Minions. They continue to work their devilish movie magic and illustrate why there are the breakout stars of this series when it comes to fan adoration. We just hope that they get another opportunity at a solo movie after their somewhat misfire of 2015. For fans of those little yellow hellions, you'll be thrilled that this Despicable Me 3 home video release contains several never-before-seen Minions short movies that increase the must have value of this package tenfold.
Now, Carell has certainly proved to be a superstar since his The Office closed. He's earned Oscar nominations for stellar dramatic work (including a recent Golden Globe nod for his work in Battle of the Sexes). But, comedy will always be his base and it is clear that he adores the challenge of crafting a new character that is a twin of Gru. Dru is like Gru 2.0 and in the hands of Carell's voice acting talent, it is another marvel to witness.
Carell and Parker are not alone in the voice acting super class. They are joined by Kristen Wiig, who reprises her role as Gru's love interest/co-worker Lucy, Miranda Cosgrove, Steve Coogan, Jenny Slate, Dana Gaier and legend Julie Andrews.
The bonus features are a plenty and for us, there are three that top that chart. Character Profiles gives fans an inside scoop into the franchise's most adored characters and the actors who play them give priceless insight into bringing them to life. The Making of Despicable Me 3 is a pretty decent making-of look at the how directors Kyle Balda, Pierre Coffin and Eric Guillon worked together to give us the fourth film in the Despicable series from Illumination Entertainment. The third top bonus featurette is Developing Dru and is especially insightful because we all know and love Carell's take on Gru. But how he found the character of Dru and how filmmakers brought that characterization to life is pretty darn enlightening and entertaining.
Now, onto the Minions bonus features, which we all know is what the majority of Despicable Me fans want. Their desire for more Minions are rewarded with a bevy of bonus features that elevates the entire Blu-Ray experience and warrants a grade much higher than we get the movie in theaters.
The Secret Life of Kyle new mini movie, takes our favorite Minion (if we HAD to choose one) and gives him his own tale, one that is sure to delight longtime fans and new ones alike. Minion Moments features the Minions diving into the mayhem pool with their fearless leader Gru to the delight of anyone fortunate enough to experience this brilliant bonus feature. You'll also want to visit Minion Mugshots and the Wanted Posters, which are both self-explanatory looks at the Minions brushes with the law.
We also quite enjoyed The AVL Files, which takes viewers inside the Anti-Villain League's hi-tech database and introduces us to their top agents and their mind-blowing gadgets. Also, a joy is the Despicable Me TV, which puts the spotlight on those hilarious Despicable Me infomercials, such as Balthazar Bratt Action Figure, Bad Boy Bod by Balthazar Bratt and Agnes' Super Cute, Incredibly Amazing Toy Sale.
Film Grade: C
Bonus Feature: A-