One of the year's most stunning films has come home on digital download, DVD and Blu-Ray. Jeremy Renner gives an Oscar nomination worthy performance in Wind River, a film that shows that not only can Academy Award nominee Taylor Sheridan pen screenplays that rivet (Hell or High Water), but his first effort behind the camera serves as an announcement of an artistic force of nature.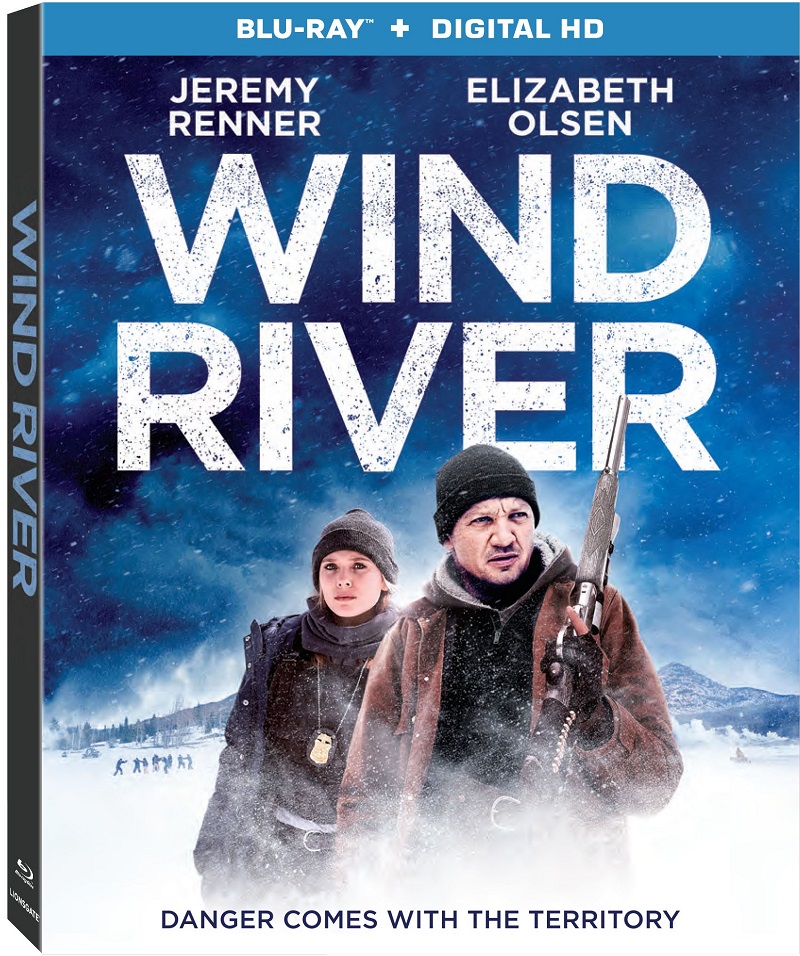 Sheridan makes his directorial debut in a thriller that simultaneously pulls heart strings while it sends our hearts racing into a fevered frenzy.
Renner is Cory Lambert, a rural Wyoming-based tracker for the U.S. Department of Fish and Wildlife who has been enlisted by a rookie FBI agent, Elizabeth Olsen's Jane Banner. She needs his help solve a grisly murder on a Native American reservation. Lambert, besides having gifts of tracking, is also deeply connected to the native community.
The stress of this case alone could shake Lambert. But, making things more challenging is the fact that the murder mirrors another case that hits the Fish and Wildlife agent in a way that can only be described as deeply personal and devastatingly raw.
Olsen and Renner are quite a dynamic pair and witnessing them trying to crack this case becomes a compelling and all-consuming emotional journey. Olsen, always fantastic, turns in another performance that allows us to see this world through her eyes. It is rural. It is tribal. Other than this whole murder thing, life here is quite simple. Not only is she a proverbial fish out of water her in Native American lands, but as someone whose experience level is quite low in terms of what she does, Olsen manages to encapsulate how viewers would feel entering this world under these specific circumstances. It's something else.
Renner is a revelation and plays levels of depth that the Oscar nominee has yet to explore on the silver screen. Life in this snow-covered may seem on the simpler side of the stress meter, yet through Renner's turn we see that his Lambert is damaged goods and there is nothing that will erase that fact, even solving this case.
Sure, finding the culprit will ease the pain, but his past has given him an event so deep that the cuts can only be healed by death itself. It's a long shot because the film isn't being touted for awards season as much as it should be, but we would love to hear the Avengers star hear his name called for Best Actor when nominations are announced in January.
Speaking of Oscar love, Sheridan earned a nod for Best Original Screenplay for his work on Hell or High Water. He deserved one for his work on his first feature, Sicario. The combination of Sheridan's powerful prose, coupled with his keen sense of direction for his own story is nothing short of cinematic brilliance.
The cast beyond the two leads are also stellar, from veteran thespian Gil Birmingham (Hell or High Water), Jon Bernthal (The Walking Dead, The Wolf of Wall Street), Martin Sensmeir (The Magnificent Seven), Kelsey Asbille (Teen Wolf) and Julia Jones (The Twilight Saga Franchise).
When it comes to bonus features on Wind River, there is not much to write home about here… unfortunately.
There are truly only two, a behind-the-scenes video gallery and a pair of deleted scenes. The latter does little to enhance what is already a perfect film and the former is a somewhat interesting 10-minute, three-part look at the making of the film from three perspectives — Olsen's Renner's and Sheridan's. It is interesting enough, but it leaves us wanting more. That could easily had been solved by the inclusion of a director's commentary track, something we would have treasured. That being said, the film is brilliant and stands astoundingly on its own.
For a deeper look at the film itself, don't miss my theatrical Wind River review.
Film Grade: A
Bonus Features: C