Readers ate up Jeannette Walls' best-selling memoir, The Glass Castle, and now with the stunning film landing on home video, it's time for legions more to discover the moving and the incredibly powerful story about family and the ties that bind.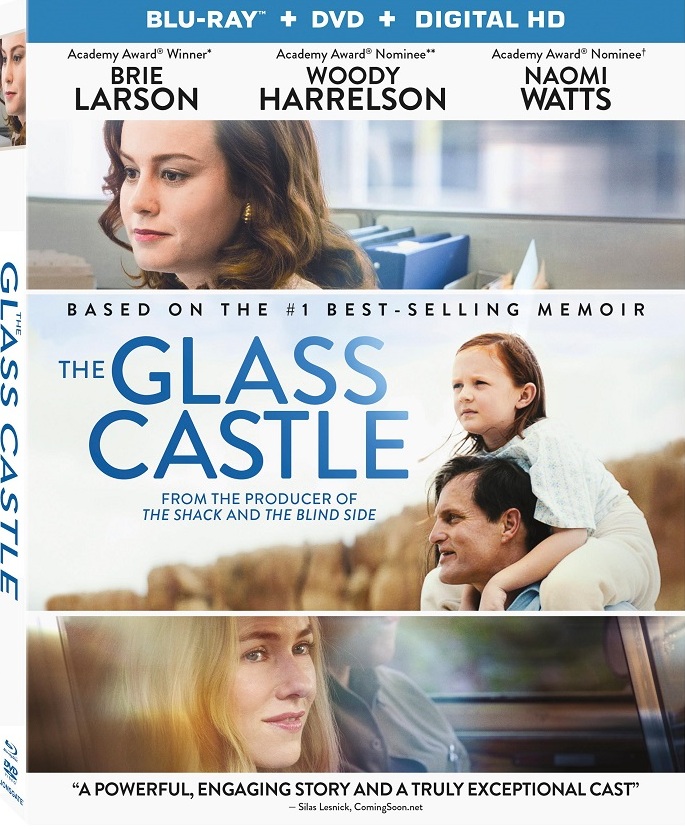 Oscar winner Brie Larson (Room) stars as Walls and as the film crisscrosses decades from her youth to Larson as an adult, the audience is exposed to her decidedly unique upbringing at the hands of her well meaning, yet exhaustingly alcoholic father, Rex (Woody Harrelson, delivering another stunning 2017 performance — don't miss him in Three Billboards Outside Ebbing, Missouri). Never able to keep a job for more than mere weeks or moths, the family moves from small town to small town across America while dodging landlords for back rent.
In an enabling role across these years is Rose Mary (Naomi Watts), Walls' mother. As a child, often times dad would portray their rough experiences as adventures and for a period, it seemed exactly that. But, there was always the promise to the kids of something more… embodying by the titular abode — something Walls' father continually promised as being on the horizon.
As an adult, Larson impeccably captures the spirit of a child whose novelty adoration of their father (and mother to a smaller extent) has propelled her into a life of Yuppie wealth with her fiancé/eventual husband David (Max Greenfield). Her childhood has also molded her in ways that clearly expose emotional scars that run deep. Director-co-writer Destin Daniel Cretton captures this visually intangible heart-tugging conundrum with such a stroke of mastery — it propels The Glass Castle to a higher place… one that firmly places it on our list of best films of the year.
Cretton gets Walls' prose and even more importantly, her perfunctory manner with which she puts a mirror up to herself with this haunting and moving story. His use of a time jumping narrative also enhances the inner toil that lies in our protagonist's heart. She adores her father, but who she is wired on a deeper level is a resentful cross she bears and blames firmly on the family patriarch.
Harrelson captures the wanderlust of Rex in such a way that never has him painted as anything resembling and antagonist. His heart is pure and that comes through to the viewer firmly due to the movie magic made by a filmmaker and his lead actor. We want this guy to get that glass castle for his family, yet he continually fails in ways that become more and more spectacular. It is when Jeannette finally breaks free, literally and figuratively, that we feel his pain on a truly existential level.
The scenes between Larson and Harrelson are among the most treasured in the entire picture. The two are like matador and bull and it is only in the third act when circumstances dramatically alter their relationship that one can sense that there is a true threat to the norm that is the father-daughter nexus.
Cretton gave us Short Term 12 and this young artist illustrates with The Glass Castle that his grasp of the art of filmmaking is strong and only growing in emotionally explosive ways.
A film like this does not need to deliver a bevy of bonus features because at the end of the day, a drama such as The Glass Castle can stand on its own as a must-own for the old movie collection. But, there are a few featurettes that – would you believe – enhance an already stunningly rich film.
Taking a beloved book of any kind and bringing it to the silver screen is a landscape filled with more exploded landmines than blissful paradise. The Glass Castle: Memoir to Movie is a priceless inside look at how all involved came together and committed to making a movie that is worthy of Walls' emotional rawness. The making-of short delves deep and illustrates why all involved were fated to be part of this electric exercise in one woman's journey of self discovery.
Readers of The Movie Mensch know all too well about our passion for bonus features that spotlight the mastery of the music score. Scoring The Glass Castle is a terrific, albeit too short, look at the mesmerizing music.
A Conversation with Jeannette Walls will be a must-see for all fans of the books and for a slew that just completed watching her journey cinematically. Don't be surprised if you seek out the author's other week, specifically after witnessing this featurette. There's an air of approachability to her in this interview that, coupled with the cinematic experience, leads one to seek out more literal words of wisdom from this talent.
Movie Grade: A
Bonus Features: B+