Girls Trip hit theaters and caught Hollywood "experts" completely of guard. The low budget comedy starring four African American actresses scored an astounding $115 million in domestic box office and in hindsight, its success should have been seen a mile away.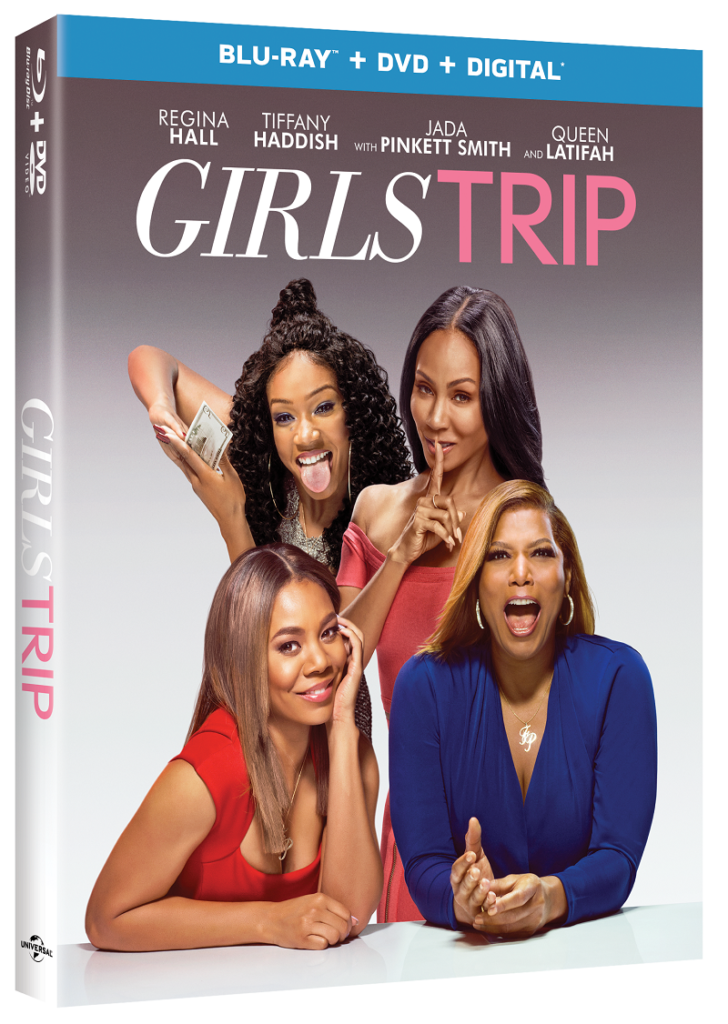 First, it comes from Midas touch producer Will Packer. Second, audiences are hungry for fun films that star a diverse cast… despite what those aforementioned "experts" (in this case studio heads) believe. Third, the film had smarts, legions of laugh-out-loud moments coupled with layers of heart. Oh, and lest we forget, the ace in the hole in this entire equation is that it was helmed by Malcolm D. Lee (The Best Man, Barbershop: The Next Cut).
For those who adored Girls Trip and for those who missed this charming comedic gem, we have great news. It is out now on DVD, Blu-Ray and digital download.
Starring Jada Pinkett-Smith, Regina Hall, Tiffany Haddish and Queen Latifah, Girls Trip follows four fiercely close friends from college who take the opportunity to get together in New Orleans when one of their own (Hall's Ryan Pierce) is behind honored by the one and only Essence Festival. Each joins the party ready to let loose, sure, but these women also could not need their life affirming friendship more than at this point in their lives.
Sasha's (Latifah) celebrity website is hurting for hits, and thus advertisers. Smith's Lisa Cooper is a single mom who is overdue for a "good time" in every way possible. Haddish's Tina is fine on the surface, but masks a deeper issue that only her friends can help her crawl out of. Collectively, this trip to New Orleans is integral to their lives moving forward in the most positive of ways. That, and their fun factor when they're together has always been off the charts and who couldn't use a little dose of friend fun?
For more on the film itself, don't miss our theatrical Girls Trip review as we laud this awesomely amazing comedy with "heaps of heart."
There is something uniquely precious about these four actresses and together they make an unstoppable cinematic force. It is keenly believable that these are four lifelong friends and it is incredibly refreshing to see strong women of color portrayed so brilliantly on the big screen. I sincerely hope the success of Girls Trip means that more films will cast both women and people of color in lead roles in manners that honors their history, talents and shared humanity that clearly transcends race, creed and color.
OK, got a little serious there, but let's not forget that Girls Trip is a slap your knee comedy at its least and a laugh-out-loud, fall out of your chair humor fest at its most. There are few comedies this year that will match it and with only a few months left in 2017, we doubt few will.
Director Lee has the perfect touch with these ladies and as his past efforts has shown, he knows how to orchestrate character-driven comedies that give us three-dimensional people that we are emotionally invested in and that is certainly the case with Girls Trip.
The Girls Trip bonus features only reinforce the awesomeness of the movie itself, but also the innately brilliant talent of all those involved.
One thing that will resonate after witnessing Girls Trip is an urge to visit New Orleans and attend the Essence Festival. It gives off the sense of empowerment and inspiration meets uninhabited fun. That is captured so well in the bonus featurette The Essence of NOLA. The piece delves deep into the joys of New Orleans and also illustrates why the Essence Music Festival and the Crescent City is a match made in heaven.
Planning The Trip takes us behind-the-scenes with the cast and crew and gives us a fascinating look at how the entire blockbuster hit came together. Particularly interesting is the chemistry between the leads, it is even apparent between takes!
Outrageous Moments captures the hilarious moments that ensue when you take four wickedly funny women and put them in the same movie. These are not the gag reel moments (although those are a must-see as well!), this is a separate featurette that goes behind-the-scenes and spotlights the hijinks of making the movie.
Film Grade: B+
Bonus Features: B+