Much as the astounding run of the USA Olympic hockey team portrayed in the film Miracle illustrated that their win was much more than a simple victory on the ice, Battle of the Sexes represents legions more than the tale of Billie Jean King defeating Bobby Riggs on a tennis court in front of millions.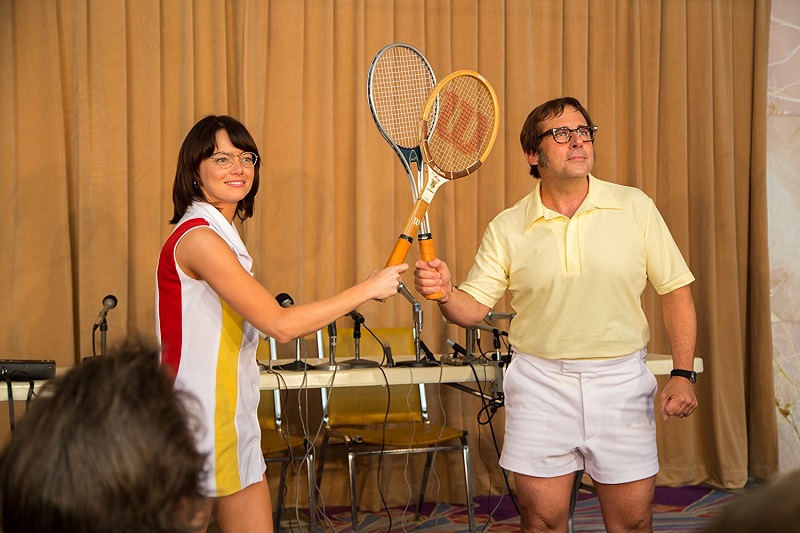 In 1973 King was on the top of the world. Professionally, she was playing the best tennis of her life. Personally, the tennis star was married to a loving, caring and supportive gentleman. But, something was brewing in the world and it was not necessarily below the surface. It was front and center and soon it would rear its head. King would grab that bull by the horns and the world of gender relations would never be the same again.
Men and women were not equal in terms of opportunities for improving their sted in life, but even a female did reach the pinnacle of their profession, they were looking at a financial reward that was insultingly lower than their male counterparts. That was especially true in the world of professional tennis. King and her colleagues decided to do something about it and it would spark a powder keg of gender imbalance that would lead to this so-called Battle of the Sexes tennis match in the largest stadium in the country at the time, the Houston Astrodome — all with a record-breaking crowd witnessing the historic event at home on their televisions.
As chronicled in directors Valerie Faris and Jonathan Dayton's film, each step on this momentous journey is detailed in meticulous fashion in terms of historical fact and relevance, but simultaneously framed by its cultural significance in painstaking manner that envelops the audience by having them so emotionally invested to every single second. That fact cannot be underscored in terms to how gripping, entertaining, enlightening and enthralling Battle of the Sexes is and that is certainly aided by the stellar script penned by Simon Beaufoy (127 Hours, Slumdog Millionaire).
It is no easy task to present the background of the gender divide of 1973 America, all while introducing rich and three-dimensional characters within a story framework that ticks all the emotional, practical and storytelling boxes that must be kept at a high standard to be worthy of an event and a moment in time of this historic stature. All those behind the camera do what King achieved such justice. The Hall of Famer and Presidential Medal of Freedom winner should be beyond proud.
Another who deserves an enormous amount of adulation from King and the film audience as a whole is Emma Stone. Her performance as the legendary tennis trailblazer and human rights fighter should only increase her collective audience impressiveness that took her to the Dolby Theater stage last year as she won Best Actress for her work in La La Land. Her turn in Battle of the Sexes will likely garner her another nomination for Best Actress as what Stone does with the King chronicle is nothing short of a service ace on so many levels. The nuance that is King and everything she went through during this period is handled with such grace, respect and revering by Stone that it is about as perfect as a performance as an actress could give.
It is also during this period that it became outwardly clear to King that her true affections lie with women. That aspect too is handled with such loving care it brought tears to our eyes witnessing this progression of self realization. Andrea Riseborough's Marilyn Barnett may have been given the job of styling King's hair and giving her the outward confidence to slay giants on the court. But it was her heart and belief in the tennis star that would catapult her to greatness during this particular game against the chauvinistic showman, Riggs.
Carell shines as Riggs and takes a role that could have been mistakenly portrayed as a clown-ish figure and he gives him depths and real flaws that effectively illustrate why the tennis champ did what he did. It is also impeccably captured why he said what he said and what it was that he sought to achieve by getting on to the court with the world's top female tennis player when the downside to losing on his end was so immense. The former The Office star gives another Oscar nomination-worthy performance and brings a humanity to the self-proclaimed face of 1973 males seeking to keep the status quo.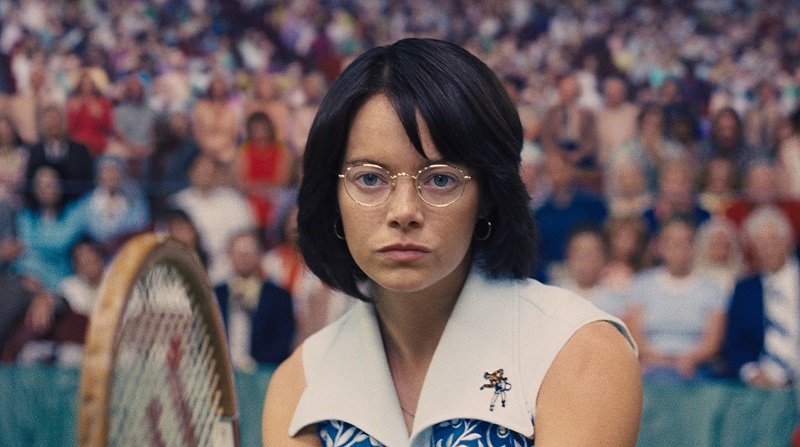 Faris and Dayton also achieve something extraordinary with how this match reverberated in terms of his historical relevance. This is why this film is a must see for all little girls (and boys for that matter). Even though women still have a long way to go to be seen as equals on all levels in 2017, what King achieved by beating Riggs on that court is illustrated immediately and immensely by filmmakers in Battle of the Sexes.
There isn't a single female of any age watching that event that wasn't forever changed by it. It was a shot in the arm that invigorated the soul and told every single woman out there that true equality is not a pipe dream. In fact, it is an achievable reality. Sure, we are still not there yet… but Battle of the Sexes showed what a giant leap was made in that realm on that fateful day.
Thanks to a spitfire from Long Beach, California, women would never quite be seen the same way again. More importantly, how they saw themselves was altered forever.
Grade: A+