Not only is It is the number movie in the land, it smashed box office records giving director Andy Muschietti something to be quite proud of. The film alone is a victory as the helmer managed to do something few directors have achieved — an impeccable Stephen King page to screen adaptation.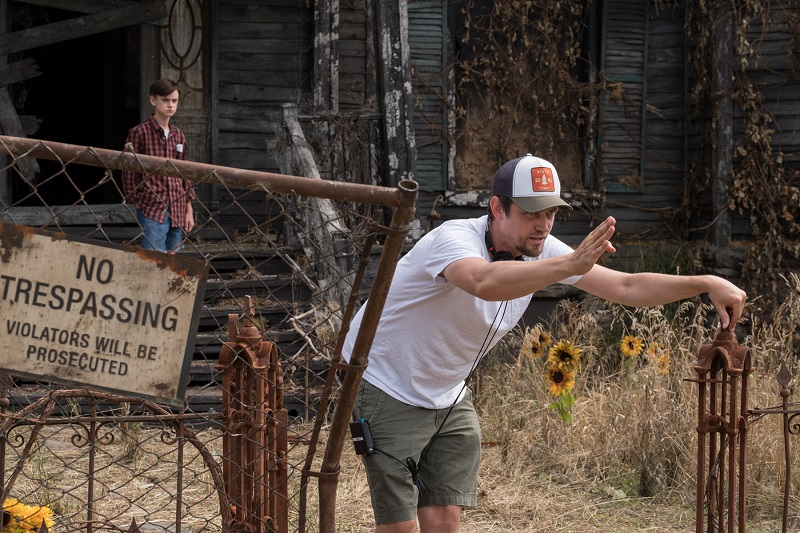 We caught up with the Argentinean director who gave us insight into the making of a movie monster, both literally and figuratively. The Pennywise character's design comes from the artistic soul, but he also created a monster in that the film's $120-plus million opening is the highest for a September movie, highest for a horror movie and certain the highest for a film based on the iconic prose of Mr. King.
Just one of the spokes of brilliance in the wheel that is It came from an idea that Muschietti had about not having the actor playing Pennywise (Bill Skarsgard) meet the kids he was going to terrorize onscreen. When they did finally meet him, it went hauntingly well.
"I wanted to capture the first hint at the camera. I wanted to preserve it until the camera was rolling. It's a crazy idea, you never know if it's gonna work. You have the faith," the director reported.
His reasoning was certainly spot-on. "Because you become familiar when you're designing the character and Bill is building his character's details, and then the makeup and everything. So, you become familiar with it. The kids don't know what Pennywise is gonna look like, they never did throughout. I wanted to basically retrieve or capture that moment, the first shock. The first scene we shot where Bill was with the Losers was very meaningful because in the story, the first encounter as a group with him."
The first encounter was with the character of Eddie Kaspbrak and found Pennywise climbing out of a refrigerator, to the horror of Eddie.
"The kids are so good actors. I can see it on the screen and I recognize that it was probably a good idea," Muschietti said. "It was part of the performance because I'm pretty sure he was freaking out!"
There is a long list of film directors who didn't quite "get it" when it came to bringing King's vision to the screen. It's no knock on them as artists, it is one challenging endeavor. For starters, Muschietti was at ease from the moment he started the process of making It. "There's no such thing as a certain pressure. Of course I wanted to do something that would make Stephen King proud. But, for me, it was about looking in to my own emotional experience when reading the book for the first time. It was more about searching and finding those certain emotions and translating it in to a film that would blow my mind as an adult. That was complicated enough to even think about anything else. Naturally I didn't think of that," Muschietti said.
Sounds like the helmer just had to recall what the author meant to him growing up and what it was about his words that got him and translate that to It. "Stephen King was such an influence of me growing up that I don't have to make an effort to tell a story in the way he tells it," he said. "Because me, as a story teller, there's so much of Stephen King's style and narrative and way of provoking emotions … they're so much part of me."
Muschietti has a feeling why those movies fail that don't adequately bring the horror master's spirit to the screen. "The adaptations that fail are sometimes the ones that try to mimic his tonal schizophrenia, his tonal swings. I didn't do it in an artificial way. I know that to get people to care for the characters, to be scared you have to care for these characters and the only way to do it is generating an emotional engagement," he said.
"Stephen King is the master of that. He really, really digs in to the characters. He has an obsessive attention to detail."