What's old is new again in Hollywood, that is never more true than with the arrival of the trailer for Flatliners from Sony Pictures.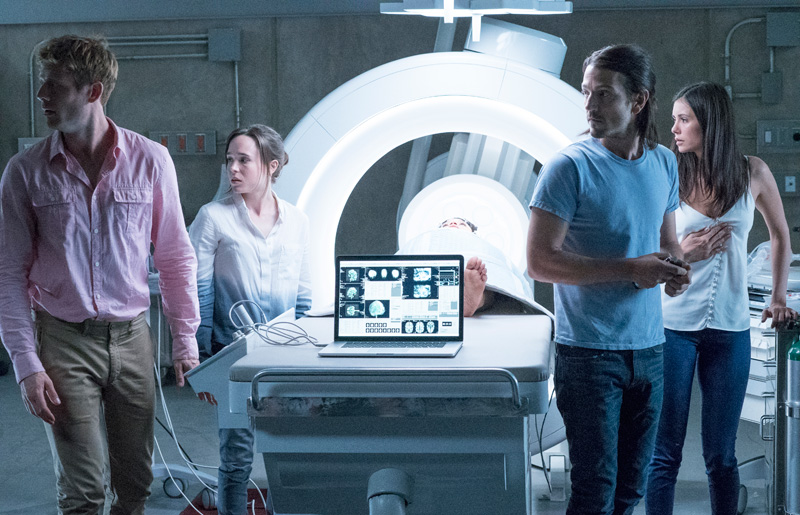 The original, 1990, film featured an all-star cast (Julia Roberts, Kiefer Sutherland and more) portraying medical students obsessed with the idea of death, and bringing people back to life. Each would take a turn "dying" and being revived by their cohorts… with mixed results that often were borderline supernaturally spooky.
The update takes that same path and with a new cast ready to explore death, including Ellen Page, Diego Luna, Nina Dobrev, James Norton and Kiersey Clemens.
Flatliners is being helmed by Niels Arden Oplev, you might remember him from his directing the Swedish original version of The Girl with the Dragon Tattoo. The script is penned by Ben Ripley, which is a great sign for the remake as he is the guy who brought us the thriller Source Code.
Sony also unveiled the synopsis for the upcoming release:
In Flatliners, five medical students, obsessed by the mystery of what lies beyond the confines of life, embark on a daring and dangerous experiment: by stopping their hearts for short periods of time, each triggers a near-death experience – giving them a firsthand account of the afterlife.  But as their experiments become increasingly dangerous, they are each haunted by the sins of their pasts, brought on by the paranormal consequences of trespassing to the other side.