We learn early in Logan Lucky that the Logan family has not had the best of luck. Jimmy Logan (Channing Tatum) could have been a great NFL quarterback, but hurt his knee at LSU and now tries to make a living with manual labor jobs near his West Virginia home. Clyde Logan (Adam Driver) felt he had no other options to get ahead and joined the military, only to lose his arm to his elbow in the Iraq War. The only one doing somewhat OK is hairdresser Mellie Logan (Riley Keough), although gainfully employed and somewhat happy, she is living paycheck-to-paycheck and even the whisper of firing would have her thinking about keeping a roof over her head.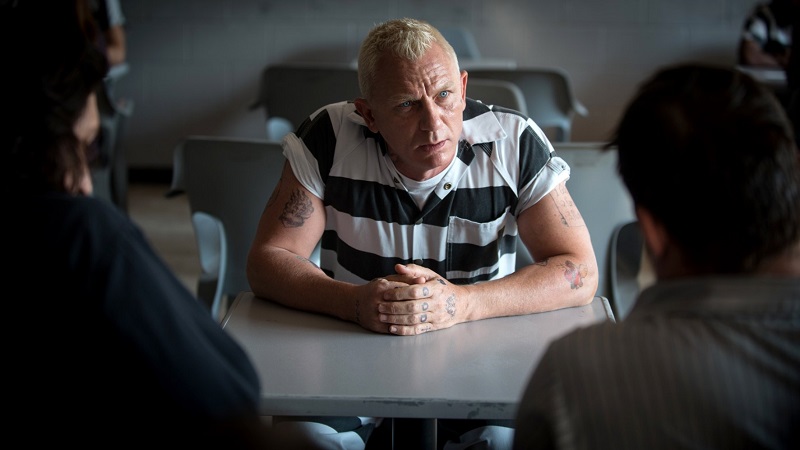 Jimmy has an idea, rob the Charlotte Motor Speedway and their familial problems (and back luck) will cease. See, while digging under it for his job, well former job, Jimmy stumbled on what is essentially the racetrack's bank and knows how to get in and how to get out and most importantly, he feels his plan is foolproof and destined to work with the right crew. That crew includes his brother, sister and some help from a currently incarcerated vault specialist named Joe Bang (Daniel Craig in the role of his life, yes you read that correctly). Bang will also need his slightly off-kilter brothers (Jack Quaid and Brian Gleeson, doing their fathers proud — Dennis and Brendan, respectively) to ensure the plan is successful.
The headline for this film is that Steven Soderbergh has returned to the director's chair. In all honestly, we think he also penned the whip smart script that is currently credited to Rebecca Blunt, who seems to not exist. The Oceans 11, 12 and 13 helmer stepped away from big screen directing duties after Side Effects because he reportedly didn't agree with how his films were being marketed. With Logan Lucky, he has been given full control of that important aspect and his newfound freedom is certainly felt in every frame of this film.
Once again, Soderbergh attracts an ensemble that is sublimely stellar. The principals are joined by Katie Holmes (who steals her scenes as the materialistic ex-wife of Jimmy), Parks and Rec's Jim O'Heir as Jimmy's former boss, Seth MacFarlane as an obnoxious British race team owner who is less than kind to his all-star driver Dayton White (Captain America: The Winter Soldier's Sebastian Stan), Dwight Yoakam as a prison warden and Katherine Waterston (Alien: Covenant) as a countrified medical professional, Sylvia, who may be catching Jimmy's eye.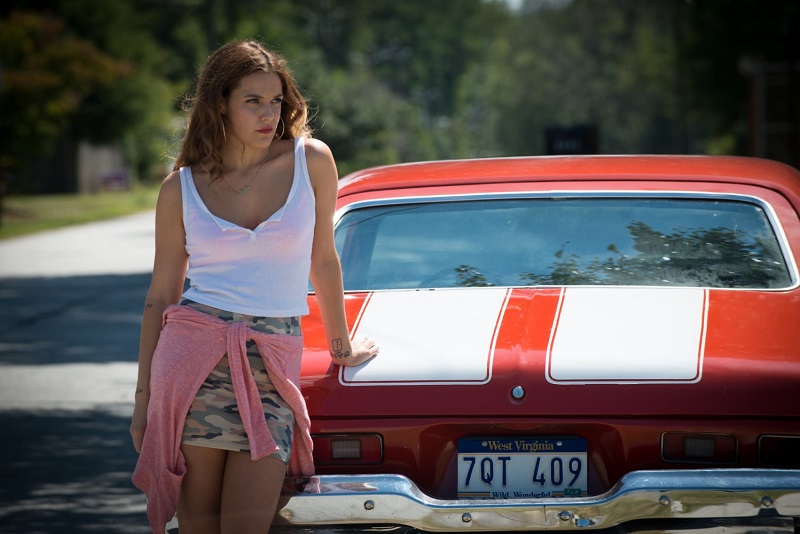 All told, the ensemble delivers in every single moment and once again Soderbergh has a cast of characters that audiences could spend days following. Whether Magic Mike or Erin Brockovich and even Traffic, the director delivers souls that grab us, compel us, move us and yes, even make us laugh when we least expect it. It is important to point out that this is not a film that finds its audience laughing at these people's Southern charm and subsequent foibles, we are laughing with them. That is what occurs when a script delivers such wicked sharp prose for all of its characters to emote. These all could have been caricatures and instead they are richly drawn, three-dimensional and fully colorful characters.
That also has to do with the acting talent across the board. Tatum does not get enough credit for the stellar actor he has become and is becoming (he clearly still spends a lot of time working on his craft). Driver again delivers playing the straight man. It is a role that could have been seen as simpleton, but there are layers to Clyde that the Star Wars: The Last Jedi actor brings to the surface that is bloody brilliant. A star is born with Keough. She is mesmerizing throughout and if Logan Lucky does not put Elvis Presley's granddaughter on everybody's must-see movie map, that is ten times any of the crimes that are committed in the film.
In an acting collective that is truly an ensemble in every sense of the word, there is one who will have audiences talking about long after the movie ends. Craig delivers his best work since Layer Cake and is, for the first time, allowed to be balls to the wall hilarious. His Bang could not have a better moniker because the man, also known as Bond, is explosive from the moment he appears and only exponentially becomes even fierier as the film progresses. It is a performance for the ages that will have audiences reassessing what everyone thinks Craig can accomplish.
Let's be clear: Logan Lucky does not have the pacing of Ocean's 11, Soderbergh's other heist-based film. It is much more laid back, although the stakes are just as high. But that is what makes it so pitch perfect is that the helmer knows his landscape. This is the south and things move a little slower there — that ease that is reflected in the speed of dialogue delivery to the pacing of the film itself. Some may think that the film gets slow at parts, that is not at all the case. The foot is firmly on the pedal of this "let's rob the Coca-Cola 600" heist flick, but it is delivered in a manner that befits the surroundings.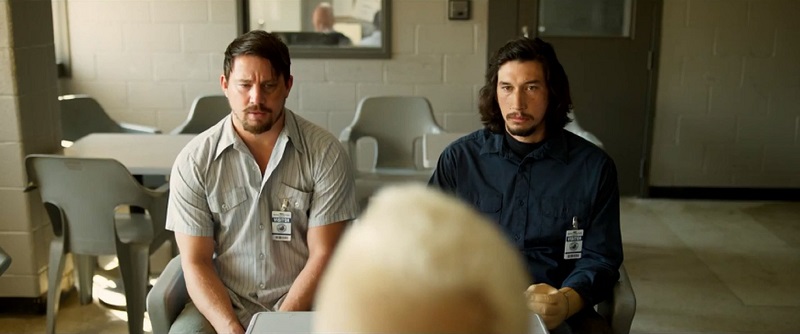 Soderbergh, hopefully, will not be leaving us ever again. It was not a long retirement, as he did work in television throughout his respite. But witnessing Logan Lucky is like reconnecting with an old friend that reminds you immediately what it is that you enjoy most about their company. It's all there, through the just-under two hour journey that might just have you singing John Denver's Take Me Home, Country Roads at its conclusion — even if home isn't West Virginia.
See, experiencing Soderbergh's latest is in many ways witnessing a cinematic love letter to splendor of the Mountain State wrapped up in a will-they-get-away-with-it crime flick that is revving on all cylinders.
Grade: B+