Cinematic history is filled with memorable music moments that enhanced the scene, brought something to the overall story arc or were simply a blast of brilliant fun.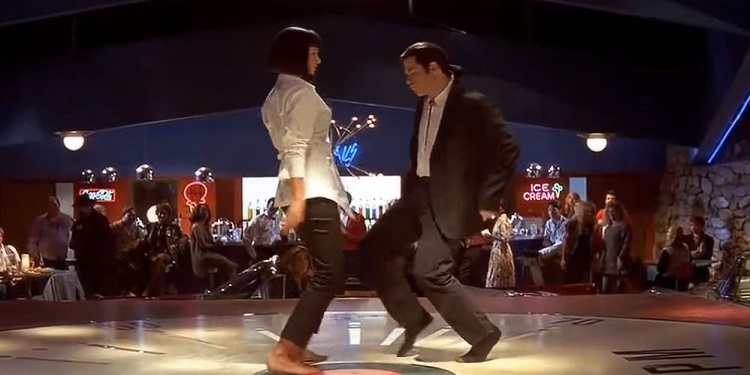 As a person who balances his love of both music and movies daily, narrowing down my list of favorites was a challenging task, to say the least.
But, I decided that there could be more than one list of movie-music mastery and this is simply the beginning. Don't see one of your favorite moments? Simply wait… I would bet it'll be in a follow-up list quite soon.
These 11 music moments ran to the forefront of my consciousness. I'm sure my subconscious is already yelling omissions at me!
These are movie moments that feature music in them that elevate the scene to iconic while also instantly becoming tattooed onto our lives. It is important to note that none of these are movie "musical" moments. Characters aren't simply busting out into a song that serves to move the plot forward or enhance some emotional output.
Presenting 11 memorable movie music moments that will surely rock your world. Heaven knows, they have mine. Oh, and these are in no particular order. Ordaining a number one, that would have been like choosing my favorite puppy!
Groot Dances to I Want You Back in Guardians of the Galaxy
Groot dancing at the end of Guardians of the Galaxy is like the icing on an already scrumptious cake, or even the cherry on a divinely delicious sundae.
The James Gunn provided ride was out of this world, but when we thought all had been said and done, Michael Jackson and his brothers started singing, that adorable little tree alien started to boogie and smiles permeated anyone who was watching. Throw in his playful toying with Drax and it all adds up to one of the most memorable music moments of all time.
Tom Cruise in His Tighty Whities Dancing to Old Time Rock 'n' Roll in Risky Business
We are not saying that Cruise dancing in his underwear to Bob Seger's classic song is what made him a star. Top Gun did that. But, let's just say it gave him a legendary pop culture moment that many in Hollywood aspire to be part of.
Try listening to that song at any moment in the last three decades (and well into the future for that matter) and not have that Ray Ban-adorning superstar-in-the-making pop into your mind dancing like a fool.
Layla in Goodfellas
When Derek and the Dominoes' Layla slows down to simply a piano sequence, it is an emotional shift of epic proportions. So too is it when it plays in Martin Scorsese's Goodfellas. The mood has shifted.
Where being a gangster was celebrated prior to that moment, after that moment – as the bodies fall out of dumpsters and are discovered in pink Cadillacs – things have drastically changed. The audience feels it in their bones because of the musical moment orchestrated by the maestro of those, the sensational Scorsese.
Bohemian Rhapsody in Wayne's World
How could we not have this scene on this list? Please! Only Wayne and Garth could get Freddie Mercury and Queen back on the US charts years after their revolutionary hit first hit.
You know you banged your heads with Wayne, Garth and the gang when the guitar kicks in. I. Know. You. Did!
Stuck in the Middle with You in Reservoir Dogs
Stealer Wheels released Stuck in the Middle with You in 1972 and it was a nice little song that had entertained millions upon millions with its hippie-ish vibe and electrified acoustic guitar rhythmic riff. When Quentin Tarantino featured it in his '70s-heavy soundtrack to his break-out hit Reservoir Dogs, the song didn't seem so love and peace.
Michael Madsen wielding a razor and cutting off a policeman's ear will do that, don't you think?
Time in a Bottle in X-Men: Days of Future Past
Of all the tracks Bryan Singer could have chosen for the dazzling debut of Quicksilver on the big screen, how impeccable was Time in a Bottle by Jim Croce?
It was a mind-blowing hybrid of slow motion action on the screen featuring the fastest man alive manipulating time while a slow and steady Croce sang about the passion we all have for stopping time and enjoying its bliss. It was a study in contrast that was one of the best scenes of any kind of 2014.
Tiny Dancer in Almost Famous
Speaking of slowing things down that were moving too fast, the Tiny Dancer scene from Cameron Crowe's Almost Famous will be remembered forever for its own ability to represent a pivotal moment in a movie.
The band Stillwater was getting enormous and its lead (Billy Crudup) was getting a big head. He took Patrick Fugit's young Rolling Stone writer to a house party and found his rock star noggin getting even bigger. When he is found by the group's manager and he gets back on the bus with the band, you could cut the tension with a knife.
Then Elton John sings and we're reminded why we are all here, those sitting both on the bus and in the cinema for this particular movie… the music. It's powerful. It's also simultaneously tear and smile inducing.
Then, Kate Hudson's character tells Fugit something that will rock his world: "You are home."
Amen.
Twist and Shout in Ferris Bueller's Day Off
One of the most joyous movie music moments has to be when Ferris Bueller (Matthew Broderick) takes to the St. Patrick's Day parade float and belts out a pitch-perfect lip synch version of The Beatles' Twist and Shout.
Not only does Ferris get everyone on screen to get down, everyone witnessing this movie magical moment is tapping their toes too.
Opening Sequence in Baby Driver
For a movie that is all about its soundtrack, it might be hard to choose one music moment from Edgar Wright's Baby Driver. But it isn't. The six-minute opening sequence, scored to Bellbottoms by The Jon Spencer Blues Explosion, is tops.
That one sequence lets the audience know exactly what they're in for during the next two hours. It is all about the music, not only for Baby (Ansel Elgort), but for the cinematic experience that is about to be enjoyed by all. Tires peeling out, gun shots ringing and characters uttering their lines will all be delivered like a metronome matching the beat of the song on the soundtrack that is coloring the drama and action with a heavy brush of brilliance.
In Your Eyes in Say Anything
One achieves movie music immortality when a simple image from said music and movie marriage is all it takes for us to hear the notes and lyrics that aided in making it so memorable. That is exactly what happened in Cameron Crowe's (yup, him again) Say Anything when John Cusack raised his boom box and let Peter Gabriel's In Your Eyes tell the love of his life everything he needed to say, and frankly, everything she needed to hear.
The scene is often copied, but never replicated. Not. Even. Close.
You Never Can Tell in Pulp Fiction
Who didn't want to see John Travolta dance again? Decades after he slayed us in Saturday Night Fever, it took Tarantino (also a two-timer on this list with Crowe) to get him to boogie down once again as he and Mia Wallace (Uma Thurman) let it rip in Pulp Fiction.
Chuck Berry had to be proud when he saw these two cool cats cutting a rug to his classic hit You Never Can Tell.
Want more? Stay tuned for Volume Two!