As was stated in our "A" The Big Sick review, the love story of the film's writers — Kumail Nanjiani and Emily V. Gordon — could never be believed in the big screen format, unless it was true. We caught up with the duo in an exclusive video interview, to get the inside scoop on the trials and tribulations of bringing their hilariously heartwarming tale to audiences everywhere.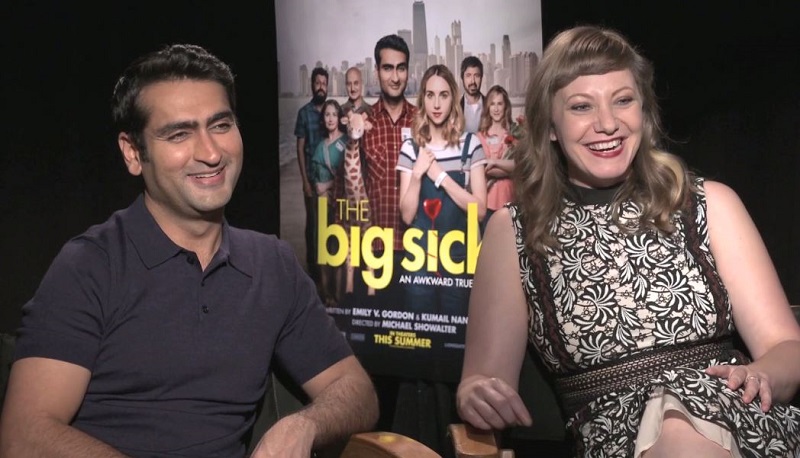 Nanjiani met Gordon while he was doing standup comedy at a local Chicago club. The two hit it off, got together and nurtured a relationship that seemed to be serious.
When his Pakistani parents' pull over their son truly rears its head, it becomes clear that because Emily is not Pakistani, there is zero chance of a happily ever after. They break up. Then, she gets sick and placed in a medically induced coma. Not knowing who else to call, when her friend needs to leave her hospital side, she contacts Nanjiani to come to the hospital and call her parents (played masterfully by Ray Romano and Holly Hunter).
When they arrive, they quickly wonder: "Who is this guy and why won't he leave?" The rest is history.
In the below interview, the couple reported on how writing The Big Sick was a cornucopia of emotions. After all, they were sharing everything — the good, the bad and the near-death. Reliving it could be emotionally challenging to say the least. Gordon and Ninjiani also revealed why Zoe Kazan was the perfect person to bring Emily's side of the love story to life. And the man who also stars as himself in the film shared his thoughts on whether audiences becoming more aware of his Pakistani culture was one of the more unexpected benefits of the film's success.
The Big Sick is out now in select cities and opens everywhere July 13.
Don't miss our exclusive video interview with Hunter and Kazan — they're full of heart and a complete hoot!
The flick is also high up on our Top 10 of 2017 (so far) list. Where did it land?