Baby Driver is racing into theaters June 28 and is easily one of the best pictures of the year. The wildly original heist tale that focuses on a getaway driver named Baby, played by Ansel Elgort, began decades ago in Edgar Wright's head when he heard one song. As it debuts, it is a character-driven, violent opera that utilizes its score and its soundtrack in a manner that is downright revolutionary.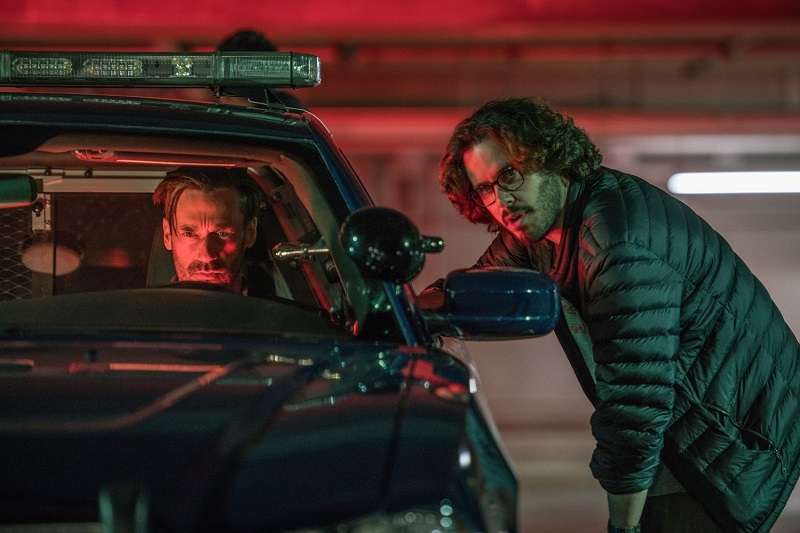 We caught up with Wright at the recent Baby Driver press day and pressed the helmer — best known for his work on the Cornetto trilogy (Shaun of the Dead, Hot Fuzz and The World's End) –as he returns to the director's chair in a film that he also wrote. In fact, this is a movie that dates back years and he presented it to the studio at first in the most unusual of ways. He gave them mixes of songs that he intended to use in the film with gun shots, screeching tires and sound effects timed to the beat of the tune.
As soon as production started, buzz was already at a fever pitch. Upon its South by Southwest debut, anticipation soared ever higher because it is that film that will change things — one of those times when cinema is at its best.
Wright talks his star-studded cast, including Elgort, Lily James, Jamie Foxx and Kevin Spacey, and how it came together. He also takes us inside the making of a modern classic and by the end of this interview — you'll want to see the movie again because you'll look at it in a new light of absolute adoration.
Q: How did the sound design come together on this one and was it different than your other projects?
Edgar Wright: I've worked with the same sound team since Shaun of the Dead and my incredible sound editor Julian Slater, also in collaboration with my editors. The crazy thing with this, is when I first put all the songs together and presented to the actors and the studio, I did these mixes with the songs where we'd put all the sound effects in. I was with this British DJ, Osymyso, [and] together we did these mixes of the songs. So when you're listening to it you could really get a sense of what the movie would be like. The gun fights in time with the music, like the Tequila scene. The scene with Hocus Pocus, there is a mix of that song with gun shots mixed in that dates back to 2008. I've been thinking about it for that long. Before I wrote a single word, I put together those songs. The police sirens are in time with the music. The gunfights are in time with the music. It was all planned.
Q: What do you see as Baby's journey in this film?
Edgar Wright: Much of the premise of this movie follows this gang of hoods. With Spacey you have a darker, more cynical world. Over here is innocent Lily James and then there is Ansel on the bubble. At the start the movie, he's an apprentice of sorts. He's fooling himself he's not a criminal. So in those moments where Ansel is see no evil hear no evil. When he meets Deborah, it's this glamorous life of being a getaway driver. He would rather just be a regular guy with her. It's like the aspiration of a better more normal life.
Q: You couldn't have written it with Ansel in mind, but my goodness he is perfect.
Edgar Wright: Didn't write it with Ansel in mind because when I first started writing this 10 years ago, he was 13 [laughs]! But it is that thing. I cannot imagine anyone else doing it. It was three years ago when we first presented it to the studio. We knew the first question was, "Who the hell is going to play this lead part?" There are not that many young "name" actors out there. I met everybody that was out there and Ansel was somebody who very quickly became the favorite. He's charismatic. He knows how to hold the screen. He has his musical background as well. He really connected to the script in a way that was interesting and surprising to me.
Q: And Lily….
Edgar Wright: I auditioned her and was charmed by her. I think she's quite a chameleon. She's been big things, like Downton Abbey and Cinderella, but she doesn't get recognized on the street. So she changes from role to role.
Q: You mentioned before introducing the movie last night that this has been in your head in some form for decades. How has the story changed over the years? Or has it at all?
Edgar Wright: I have had the basic premise for years. I knew one of the earliest things I wanted was this escalation of heists. You see three heists and each one gets more complicated. We start with the dream chase. Here's your fantasy of being a getaway driver. You could really do it and there's not a scratch on the car and nothing goes wrong, nobody gets hurt. Second heist, immediately things start to go wrong. Then, unlike the games and fanciful movies out there, you're presented with tough, morally complex situation where members of the public are involved, people are getting hurt — members of your gang are getting killed. You carjack a car, but there's a baby in the back. We tried to make each situation as sticky as real life is. By the time you're getting to the third heist, Baby has to make life or death decisions himself. It was really just that thing about ramping up the stakes and showing the moral consequences. I also wanted to show that even if you do the right things at the right times, you are completely complicit in the crime and you will be treated as a public enemy, just like the rest of them.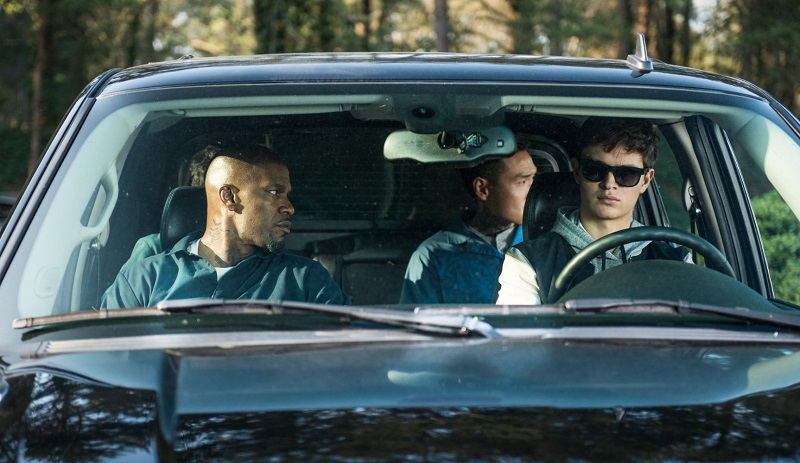 Q: Was it always the intention to get co-stars that have such screen presence, like Jamie Foxx and Kevin Spacey? Or, did it happen more organically when filling out the Baby Driver cast?
Edgar Wright: You obviously want strong actors to play these parts. I must admit in the greatest way I didn't think I was going to get people as big as Kevin Spacey and Jamie Foxx to play these parts. When the studio responded to the script and wanted to do it, it has a huge impact — also, casting Ansel at the right age. Casting a 21-year-old to play that age, instead of casting someone who is 29 to play 21, it immediately real visceral impact on these actors who are real heavy weights. Some of my favorite scenes in the movie are where Kevin, Jamie and John are turning on Ansel [laughs] — it's just incredibly intense.
Q: You get so much about your characters from other characters, a refreshing script technique. What was your thought process behind that?
Edgar Wright: Criminals won't offer up their past willingly. If you listen to the movie, someone else is telling somebody else about the other person. There's this element of myth there. So, Spacey tells Foxx about Baby. The same way that Jamie says to Jon, I know your story. But Jon doesn't say anything. Because Jon doesn't say anything, it means that Bats (Foxx) got close to the truth. I love all these ideas — even that Baby has made all these tapes about himself. He's this self-mythologizing thing. In his head, he knows he's doing bad things, but he's trying to feed off the myth of being the young driver.
Q: Could there be a Baby Driver 2?
Edgar Wright: I would love it. But, that's not up to me. I have ideas.