It has been a long wait, but the first teaser trailer for Star Wars: The Last Jedi has finally arrived. Walt Disney Pictures and Lucasfilm unveiled the first look at Episode VIII at the annual Star Wars Celebration in Orlando, Florida to a packed house who promptly lost their collective minds.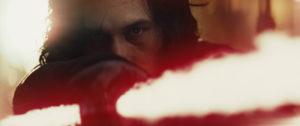 So, what did the new trailer show us? Well, we got a glimpse of Mark Hamill's Luke Skywalker, a good peak at Rey (Daisey Ridley), Kylo Ren (Adam Driver) and a slew of action sequences and a brand new planet that we've never seen prior in the Star Wars universe!
New to the series director Rian Johnson (Looper) sure looks like a magical choice to take the iconic series forward as Carrie Fisher appears in what will be her last role, along with returning favorites John Boyega, Lupita Nyong'o, Oscar Isaac, Anthony Daniels, Domhnall Gleeson and newbies Andy Serkis and Benecio del Toro.
Look for The Force to continue when Star Wars: The Last Jedi rocks into theaters December 15, 2017.