Walt Disney Pictures has unveiled a first look still of Emily Blunt in a costume that should be familiar to longtime Disney fans. Blunt quite looks the part of Mary Poppins, doesn't she?!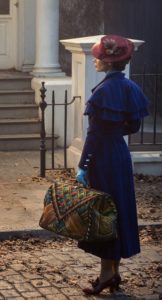 The film — entitled Mary Poppins Returns — is directed by Rob Marshall (Chicago, Into the Woods), is currently filming in London and the studio must have decided to give the world a global-sized tease as to what they're up to as we get a second chapter to one of the most beloved stories of all time.
Blunt is joined by Lin-Manuel Miranda, Ben Whishaw, Emily Mortimer, Julie Walters, Colin Firth and Meryl Streep. Guess who will also be appearing? Star of the first film, the one and only Dick Van Dyke. Angela Lansbury is also in the cast, portraying the Balloon Lady… a character from author PL Travers' original children book series.
The film will be set in depression era London (where the Travers novels originally took place). It finds the Banks children, Michael (Whishaw) and Jane (Mortimer) grown up. Michael has three children of his own. When Michael falls hard on his luck, guess who comes back to once again save the Banks family? You guessed it, Miss Mary Poppins.
Mary Poppins Returns to theaters December 25, 2018.