With The LEGO Batman Movie around the corner, Warner Bros. has just released the trailer for the next film featuring those LEGO characters to hit screens. The LEGO Ninjago Movie has unveiled its trailer and it's something else.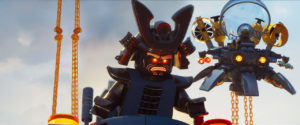 The animated movie features the voice talents of Justin Theroux, Fred Armisen, Olivia Munn, Dave Franco, Michael Pena, Jackie Chan, Zach Woods, Kumail Nanjiani and Abbi Jacobson.
This first Ninjago film finds the battle for Ninjago City centered on young Master Builder Lloyd, aka the Green Ninja. He and his fellow ninjas, led by the great Master Wu, must defeat the evil Garmadon. Guess what… he also is Lloyd's dad!
The LEGO Ninjago Movie will feature a directorial debut from Charlie Bean, from a screenplay by Hilary Winston, Bob Logan and Paul Fisher.
Look for it September 22.