The final Logan trailer has arrived and it has only increased our anticipation for what has been billed by star Hugh Jackman as the final chapter in his Wolverine solo movie adventure.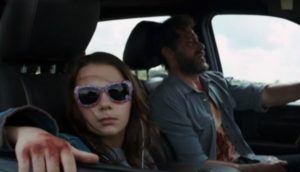 And just like that previous teaser, the haunting music permeates throughout the images that show an X-Men world in dire need of a hero.
The film takes place in the near future and features our favorite X-Men hero pairing with Professor X (Patrick Stewart) as they encounter a little mutant girl with some seriously special (and quite familiar) gifts. Many want her, but for nefarious reasons. It's up to our two veteran X-Men to take her under their wing, to mentor… but also to save her.
James Mangold returns to the director's chair after his triumphant work on Wolverine. The film also stars Eriq La Salle, Stephen Merchant, Elizabeth Rodriguez and Elise Neal. Look for Logan in theaters March 3.