Suicide Squad has landed on DVD and Blu-Ray and should make many a fan a happy stocking stuffer this holiday season. The film that critics panned and audiences adored should sell quite a few home vids as it not only includes the smash hit movie with the all-star cast, but an extended cut that includes just over 13 minutes of never-before-seen footage. All that… and an army of bonus features that take us deeper into the making of director David Ayer's latest. Those featurettes are also delivered in a manner that has never before been available and is frankly, mind-blowing.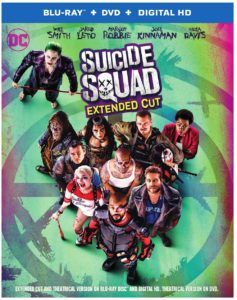 Ayer's (who also penned the screenplay) cast is led by Will Smith, Jared Leto, Margot Robbie, Joel Kinnaman, Jai Courtney, Viola Davis, Scott Eastwood, Adewale Akinnuoye-Agbaje, Ike Barinholtz, Adam Beach, Karen Fukuhara and Cara Delevingne.
Our story follows the idea that what if law enforcement (led by Oscar winner Davis) came up with a crew of the "worst of the worst" that could be inserted into any sure-to-result-in-casualties-situation where justice could be served and blame would fail to be placed on anyone because these villains are expendable.
Many of DC Comics worst villains are gathered by Davis' Amanda Waller and given a special mission; it doesn't take them too long to realize that this is essentially a suicide squad with nothing to lose. When that realization takes place, the crew realizes that it is every man (or woman) for themselves.
The casting is impeccable. The highlights have to start with Robbie as Harley Quinn and Jared Leto as The Joker. The pair share many a scene together and their chemistry is sizzling. We could not be more excited that Quinn is getting a spin-off movie that we hope will be arriving on screens sooner than later. Although Leto's Joker is our least favorite behind Heath Ledger's and Jack Nicholson's, it is still a solid piece of work from the Oscar winning actor to dive into that pool of crazy meets criminal.
Smith is Deadshot and he hits the bulls-eye. Might we suggest that Smith do more of these ensemble pieces instead of headlining movies that may not be the best fit for him at this point in his career? It's nice to see him in role where he does not have to carry the entire film.
In fact, all the actors seem to be having a delightful time being bad and we guess that old adage is true… that it is good to be bad!
Our look at the bonus features has to start with one that sounds like it would be one that salutes the platinum selling soundtrack, but in fact looks at the most intricate of battle scenes in Ayer's flick. This Is Gonna Get Loud: The Epic Battles of Suicide Squad is an almost eleven minute look at how the filmmakers and cast rehearsed and choreographed some of the most insane battle and fight scenes in a DC comic book movie we've ever seen.
Speaking of fight sequences, Squad Strength and Skills is an almost 10-minute look at how the stunt sequences were born with a fascinating and insightful chat with stunt coordinators Richard Norton and Guy Norris.
One cannot have action scenes in a film like this without the use of some pretty out-there weapon wielding. Armed to the Teeth puts the spotlight firmly on props with property master Don Sissons, as he details his choices for weapons and items that were used in the various battle and fight sequences.
One of our favorite featurettes is Task Force X: One Team, One Mission. The twenty-three minute bonus feature feels like a documentary short in how it delves deep into the history of the Suicide Squad in the comic books. Fans, new and old, will cherish the insight by Ayer as well as the principal cast and exclusive reveals from DC Comics writer John Ostrander.
As a longtime fan of Ayer, we know his passion for sets that are practical and use of green screen is as limited as possible. Chasing the Real finds Ayer, as well as production designer Oliver Scholl and visual effects producer Ed Ulbrich talking the balance between the realism of the film and how that was balanced with the fantasy that comes directly from the comic books.
Clearly, we adore the scenes with The Joker and Harley Quinn, so it is no surprise that the featurette Joker & Harley. Leto, Ayer and Robbie take us inside the making of the mayhem and magic that emanates from the "It" couple of the DC Comics underworld.
Lastly, we appreciated The Squad Declassified. Sure, it is a promotional short, but we like how it highlights each member of the Suicide Squad and their role in the larger universe of DC.
Film Grade: B
Bonus Features: B+