Damien Chazelle wowed us with Whiplash and the writer-director has sent the triumph meter through the roof with his latest, La La Land.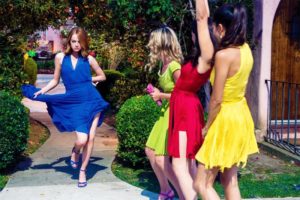 La La Land is on one hand a film for audiences who feel that Hollywood doesn't make "movies like that anymore." It simultaneously is also for viewers all over the world in that it is a love letter to love, lost love, dream following and the City of Stars, otherwise known as Los Angeles. So yeah, the Ryan Gosling and Emma Stone starring musical is for everyone. Period.
Stone and Gosling join forces for their third movie together and it's easy to see why audiences adore these two sharing scenes together. Chemistry is too tame of a word to describe what they bring together when they share space on the silver screen. It is electric. It is palpable and most importantly, their collective moments throughout La La Land are the heart and soul of the picture. That feeling they create in this absolutely perfect film feat is one that makes us want to visit this world over and over and over.
Gosling is Sebastian, a jazz pianist who has a dream of opening his own club that features him tickling the keys every night with fellow musicians he respects. It is a place that will serve as an artistic stew of mighty musical melody, sonic succulence and be a hub where those who come to Los Angeles seeking artistic inspiration will find their well filled.
Stone is Mia, a struggling actress who has gone on some of the most heart wrenching and defeating auditions one could endure. Yet, she keeps on plugging and believes that there is something here in La La Land that is calling her and that pull is too loud to ignore.
They meet and there is something that immediately draws these two together. They share an appreciation for the belief that there is a world out there that yearns to be entertained and moved. They keenly know that they could and should be two of the many spokes of that turn that giant Hollywood wheel that comprises the entertainment capital of the world.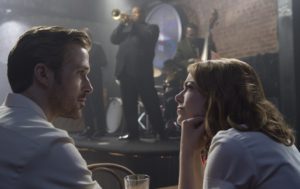 There is also something classic about the roles that ambition and love play in this film. Who cannot relate to the desire to find that heart warming vocation that encapsulates our dreams impeccably? Then again, the search for someone to share our life with is equally as important in the scope of one's life. Now, what if those two aspects of the human spectrum are on a collision course and cannot cohabitate. What then? What if it is an either/or? It's a painful choice and countless people have made it over the years and it is a refreshing delight that Chazelle has placed that career versus love choice at the center of his latest film.
It raises the concept of settling. Sometimes artists find themselves in a career choice that is in our realm of dreams, but not quite right in that sweet spot and they have to live with that choice. Also, in a similar manner, many accept a "better half" partner in love that is not 100-percent who we should be with. What happens when we settle? Who wins? La La Land argues firmly that no one, that's who.
La La Land is a complicated film about some simplistic subjects and that is another reason why it is elevated to such legendary status by a vast majority of those who have seen it. Stylistically it is in a league by itself in 2016. There are many calling it the best picture of 2016 and that the race for Best Picture is already over. That may or may not be true, but one thing is for sure… you will not see a film like La La Land in 2016 and be moved, shaken and stirred by a cinematic experience like Chazelle's all year — guaranteed.
The music of this musical is heaven sent. The dancing choreography (by Mandy Moore) is pure magic. Combine the two and this is a musical that works on so many levels, even for people who claim to not be fans of musicals. This is a soundtrack you will want to own. It's hard to choose a favorite song, or one that we think will shoot to the top of Oscar favorite for Best Song, but City of Stars and Audition are leading contenders.
Speaking of Oscar… if And I Am Telling You I'm Not Going guaranteed Jennifer Hudson an Oscar for Best Supporting Actress for Dreamgirls and I Dreamed a Dream from Les Mis secured Anne Hathaway her Best Supporting Actress Oscar for that film, then Stone's performance of Audition will surely put her over the top for the Best Actress trophy for the Academy Awards this coming February.
Not to be outdone by the singing and dancing, the artistry of the film tone itself is beyond beautiful. The cinematography is out of this world. There are shades of the color spectrum that are used in decorating the scenery, skies and subjects of La La Land that are simply sublime. The first filmmakers that moved to Hollywood early in the twentieth century did so because of the luminous light here in Southern California. They should all be smiling from heaven with how this film shines a light on the pure radiance reminiscent of a renaissance painter's palette of sky colors that Chazelle captures with his camera.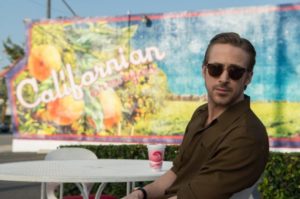 Chazelle is a transplant, and like many LA transplants, he adored the locale from afar and then when he moved here, his passion for the cityscape only increased. That passion for the city comes through in every frame and for folks who are natives to the City of Angels — La La Land will make your adoration for home seep even deeper into your soul. His command of his craft is astounding, given that this is only his second big feature. Given time, there is no question that this artist will go down as one of our greats. Without his handprints all over this picture, it would feel vapidly empty and without soul. It is his soul and spirit that injects it with the life that makes it pop with perfection.
From the opening moments of La La Land, the audience knows it's in for a treat. It is a musical number executed on a jam-packed Los Angeles freeway! Not an easy task to achieve. The musical number and dancing sequence sets the bar extremely high. The thing is La La Land only goes ever higher from there all the way through its refreshingly realistic and charming crescendo of a conclusion.
Grade: A+