The first full War for the Planet of the Apes trailer is here, and it is simply stunning.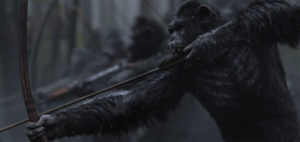 The third chapter in the series finds Caesar and his cohorts inching closer to war with the humans in a battle that proves that this planet is not big enough for both of them.
The humans are led by a new character, named the Colonel (Woody Harrelson). He and Caesar are on a collision course, and the one who rises from the ashes of that fight, will surely be the one who leads the species who will rule the planet.
Andy Serkis is back as Caesar, and he is joined by Steve Zahn, Terry Notary and Karin Konoval.
Look for it in theaters on July 14, 2017.