One would imagine that the creative combination of children's author Roald Dahl, screen legend Steven Spielberg and Walt Disney Studios would be blissful beyond belief. With the arrival of The BFG, it is that and a whole lot more.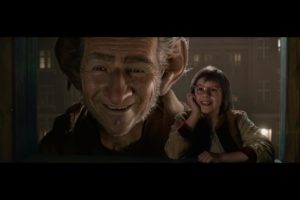 Dahl, who gave us Matilda and Willy Wonka and the Chocolate Factory among other delight's, penned an 80s set masterpiece with The BFG. It is a story about an orphan girl named Sophie (Ruby Barnhill, a delightful discovery) who looks out the window at her English orphanage and sees a giant walking around her neighborhood. This can't stand, thinks the giant, so he takes her and brings her back to his village in a secret, somewhat distant land. The only problem is he has to keep her presence a secret, as the rest of his kind aren't as, well, kind. They eat children, after all.
Since he is so gracious and warm-hearted, Sophie delights in his name, The BFG (big friendly giant) and boy oh boy does it fit. Spielberg scored beautifully when he cast his BFG in getting his Oscar winner from Bridge of Spies, Mark Rylance. Sophie and The BFG are a touching and cute pair and watching them converse and witnessing them influence and affect each other in the most positive of ways is such an explosive does of inhabited joy. That is something that Spielberg and his screenwriter (the late, great, Melissa Mathison of ET fame) capture impeccably. Then again, that is something those two (particularly Spielberg) has done with a gold standard since his career began all those decades ago.
Trouble comes when Sophie is discovered and a larger plan by the giants to gobble up all the children in the village and the larger locale of England itself is revealed. The other giants are terrifying (in a child story way) and the idea of them descending on the British Isles is one that The BFG feels he has to somehow stop. He and Sophie hatch a plan, and it might just work. It might…
The BFG is a technical marvel. It is fantastic and such a gift to see Spielberg get back to his fantastical roots. He's one of our most gifted filmmakers in any genre, but there is something truly magical about him wielding his camera and working his cinematic sorcery on a tale that is all about things that are truly and literally larger than life.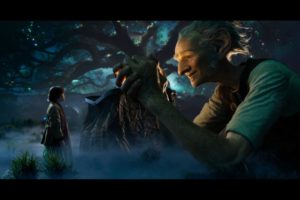 Joining Spielberg on this journey is his longtime composer John Williams (who recently earned an Oscar nod for The Force Awakens). Yet again, the pair connects and hit a grand slam where visuals meet music and they produce an emotive power that few director-composer tandems can achieve. We have used the word quite a lot here, but again… there is something truly magical about this creative collaboration.
Then, there are the actors. Rylance not only delivers his lines with a charismatic charm that matches BFG's personality, but he gives a motion performance capture performance that one would think the actor had years of experience in this highly artistic meets technical format. What he does with his face and in the minutest of details, his eyebrows, cheeks and even ears is profound. Rylance keenly knows that his character is on the largest of scales and yet delivers emotion and action that capture the smallest of moments. And after all, it is the addition of all those tiny instants that make up the power of the film.
Meanwhile, matching him note for note is Barnhill. She is a find and quite the discovery. It is clear that she and Spielberg had quite the connection on the set and that comes through on every frame of their film. She is sweet, powerful, and projects a presence years beyond her age.
The BFG is a terrific addition to the summer movie scene and for families and kids of all ages that are seeking a fantastical escape from the evil giants of the world around us; it is a heavenly journey into pure happiness.
Grade: A