Walt Disney Pictures took Steven Spielberg and his latest film, The BFG, to the Cannes Film Festival and to celebrate the movie's triumphant premiere at the iconic fest, they released the latest trailer.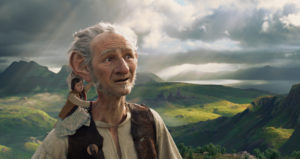 The film is based on the Roald Dahl legendary children's book and if there was a team that could bring that magic world to life, it is Spielberg and the Mouse House.
Spielberg re-teams with his Oscar winning star from Bridge of Spies, Mark Rylance, who stars as The BFG (big friendly giant). Although he is enormous, he is nothing like the rest of his kind, such as Fleshlumpeater (Jemaine Clement) and Bloodbottler (Bill Hader). They are human eaters, while BFG prefers to munch on Snozzcumber and Frobscottle.
The BFG took a little 10-year-old girl from London named Sophie to Giant Country, and although she is scared, she soon realizes that he is nothing but a gentle giant. In fact, The BFG collects dreams and releases them to children all across the land.
The worlds are about to collide and Sophie and The BFG are the only ones who can stop a full on giant invasion.
Rebecca Hall also stars in the film that features Ruby Barnhill, Penelop Wilton, Rafe Spall and is from producer extraordinaire Frank Marshall.
Dahl debuted The BFG in 1982 and if this movie is like any of his other adaptations — Charlie and the Chocolate Factory, James and the Giant Peach and Matilda, audiences are in for a treat.
Look for it on July 1.