If Star Wars: The Force Awakens was the most anticipated theatrical release of 2015, it's safe to say that it is the most eagerly awaited DVD and Blu-Ray release of 2016. Well, guess what folks? Episode VII in the iconic film series has come home and it may also be the best home video release of 2016 before all is said and done, as well!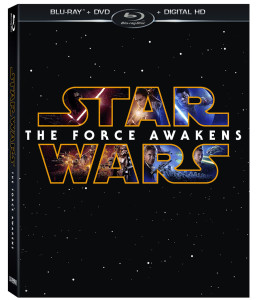 Directed by J.J. Abrams, The Force Awakens picks up 30 years after the events of Return of the Jedi. Luke Skywalker has disappeared and the world he (and us) once knew is drastically different. The First Order is rearing its evil head as the mysterious Snoke has Kylo Ren (Adam Driver) doing his bidding and building a weapon that will make the Death Star seem like a plaything.
Meanwhile, a new cast of characters get pulled into the action, including Daisy Ridley as our heroine Rey, John Boyega as a Stormtrooper named Finn — who finds in the heat of battle that he cannot kill and will do anything to escape that world and Oscar Isaac as the Resistance pilot Poe Dameron, who may just be the best fighter pilot in the galaxy. There's also a fantastic new droid that won the hearts of the hundreds of millions who saw The Force Awakens in theaters – the adorably amazing BB-8.
Abrams and co-screenwriter Lawrence Kasdan do a masterful job of bringing in our favorite Star Wars characters from the past. They stay true to the stories that came before and insert them into this new universe in an impeccable way that feels authentic. Ford, in particular, is incredible and not only slips back into the role of Han Solo with powerful panache, but delivers his best performance as the characters since we first met him in 1977. It is nothing short of brilliant.
As any filmmaker would tell you, a film like this is only as good as its villain. And Driver's Kylo Ren gives Darth Vader a run for his wickedness. It's a complex story that brings him to the dark side and when the who's and why's are revealed, prepare for a jaw drop moment.
Overall, Abrams does a riveting job of updating the Star Wars world and giving life to characters we never met and ones we thought we knew. Back when it appeared on the big screen, we applauded the film and recommended seeing it numerous times to soak it all in. For more on the film itself, check out our theatrical Star Wars: The Force Awakens review.
The film itself is worth a purchase, for that there is no question. But, the bonus features that Lucasfilm, Disney and Abrams have included have elevated this DVD and Blu-Ray release to almost iconic status.
We have to start with the full length documentary, Secrets of The Force Awakens: A Cinematic Journey. Although shrouded in secrecy from the beginning, it's hard to argue that there are few films that were more documented in terms of their production progress than Abrams' Episode VII. We get never before seen interviews with the stars and filmmakers that take us inside the making of the film and it gives us an even deeper appreciation for the magic of The Force, circa 2015. From inception to the building of the practical sets that would add to the realistic feel of the film, A Cinematic Journey is truly just that — it is an epic expedition that chronicles how one filmmaking genius achieved the impossible… crafting a follow-up to one of the most beloved trilogies of all time. Most making-of docs are merely ten to fifteen minutes that fill in the blanks for fans as to how the magic of the movies come together. This creative force of nature will set the bar for all future making-of featurettes on Blu-Rays heading forward.
Remember when Abrams provided that iconic photo of the first cast table read when the Star Wars: The Force Awakens full cast was revealed? Imagine actually seeing highlights of it… thanks to the bonus feature The Story Awakens: The Table Read, we do! We so badly want to let you in on a little secret, but since there are so few spoilers for a home video release, we'll just say that what Mark Hamill does for this first cast gathering is beyond awesome. Also, witnessing this cast's pure joy at what they were about to embark on is palpable and it's a lesson in casting brilliance as one can see almost immediately that this is a group of actors and actresses who were each born to be sitting on that couch at that very moment.
Did filmmakers have any idea that when they conceived of the droid BB-8 it would become an instant pop culture icon? You might think so, after witnessing Building BB-8. Abrams wanted a functioning droid that could work as a character all its own, much as R2D2 and C3PO did, but would actually be a droid and not just an actor in a mechanized costume. Love BB-8? Don't miss this featurette as it truly becomes a lesson in imagination meets technological advancement. By the time this doc short is done, you'll want to run out and by one of those remote controlled mini-BB-8's… if you don't own one already!
One of the things the Star Wars universe is known for is creating characters that are not human, nor resemble anything close to the human form. Episode VII was no different. From Lupita Nyong'o's Maz Kanata to many souls that have no lines that are clearly from galaxy's far, far away — Crafting Creatures is a brilliant and stunning look at the magic makers at Lucasfilm who have brought to life a whole new population of creatures that will firmly join the legacy of the Star Wars world that is known for challenging our imaginations. This is also one of the more informative featurettes and is likely to inspire a whole new generation of creature crafters.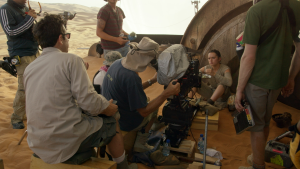 In that vein, in this age of digital effects, the talent of Lucasfilm's special effects team, ILM, gets the spotlight on how they crafted the Oscar nominated effects that number in the hundreds of thousands in The Force Awakens. ILM: The Visual Magic of The Force takes us up to the Northern California campus of the effects house and goes behind the scenes to illustrate just how so much of that eye candy was created. It's easy to see why this team earned their umpteenth Oscar nod for their work on the latest Star Wars.
One of the more epic moments in the entire film is the battle in the white-covered landscape between Rey and Kylo Ren. It's a lightsaber battle that ranks with some of the franchise's best. Seeing how it came together and the painstaking effort that filmmakers took to present something truly powerful for an audience that has "seen it all," comes to life vividly in Blueprint of a Battle: The Snow Fight.
One of the best pieces of news, besides hearing that Hamill, Ford and Carrie Fisher would return, was the word that John Williams would be providing the score for Abrams' epic. For those of us who have treasured every note the musical magician crafted, John Williams: The Seventh Symphony is a rare look inside the creative process of an icon as he shares personal insight into how he crafted his musical menagerie for the first Star Wars movies, and of course, The Force Awakens.
Lastly, there are six deleted scenes that cannot be missed. For those of us looking towards Episode VIII, there are clues to be had and even simple entertainment to be gleaned from these moments that didn't meet the cut. They feature our favorites from Han, Chewie and Finn to a moment that had General Leia introduced earlier in the film than when we actually see her in the theatrical cut. For fans young and old, these moments are extraordinary – much like the entire The Force Awakens experience.
Film: A-
Bonus Features: A+