In news that truly came out of nowhere, Walt Disney announced today that Steven Spielberg was re-teaming with Indiana Jones himself, Harrison Ford, for a fifth film in that iconic series.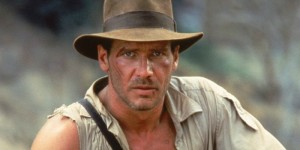 They have even set a date, so get out your calendars and mark it down: Indiana Jones 5 will embark on another adventure on July 19, 2019. Spielberg, who directed all four previous Indiana Jones movies, will return to the helmer's job, as well franchise producers Kathleen Kennedy and Frank Marshall.
After the unanimous praise that Ford received for reprising his role of Han Solo in Star Wars: The Force Awakens, we think that someone, somewhere, thought that the action hero could give us one more go with his trademark Fedora hat and whip and give audiences quite the joyous return of the series that gave birth to the archaeologist/hero with Raiders of the Lost Ark.
"Indiana Jones is one of the greatest heroes in cinematic history, and we can't wait to bring him back to the screen in 2019," said Alan Horn, Chairman, The Walt Disney Studios in a statement.
"It's rare to have such a perfect combination of director, producers, actor and role, and we couldn't be more excited to embark on this adventure with Harrison and Steven."
The four films have sold nearly $2 billion in tickets at the international box office. Look for that number to go significantly higher with this fifth edition.
Stay tuned for more as news arises. And so much for that rumor that Chris Pratt was taking over for Ford!