One of the bigger movie surprises of last year was the arrival of Creed. The seventh Rocky film managed to be one of the best reviewed of the year, and even ended up on The Movie Mensch's Top 15 of 2015. Now — if you missed it or simply want to see it again — the Oscar nominated and Golden Globe winning hit is out on DVD and Blu-Ray.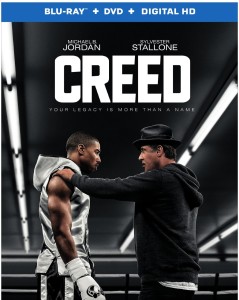 Michael B. Jordan re-teamed with his Fruitvale Station director, Ryan Coogler, for Creed — which tells the story of Adonis Creed (Jordan) and his battle to overcome his own demons, learn what legacy truly means and perhaps maybe, if he can get out of his own way, find a way to rise to the top and be as good — if not better — than his legendary father, Apollo Creed.
We meet the young Creed as a juvenile detention living kid who never shied away from a fight. When Apollo's widow, Mary Anne (Phylicia Rashad) shows up and "adopts" him, she gives him a chance at life that could find him taking any road he wanted to success. But, there's something in his blood… and that's boxing. Despite a potential high-paying career in the corporate world, he finds himself boxing in Tijuana, trying to forge his own career in the professional brawling world.
That leads him to Philadelphia, to hopefully train under his father's old nemesis/best friend… Rocky Balboa (Sylvester Stallone). Will the former champ take on the prodigy? The answer is not that simple. Together, they could achieve greatness. But, The Italian Stallion has his own demons to wrestle with, not the least of which is the loss of his wife and his brother-in-law and an estranged relationship with his own son. Together, Creed and Balboa once made a terrific team. Can they do it again?
As we stated in our theatrical Creed review, the film is astounding, electric and will have you cheering out loud. For more on the film itself, don't miss our thoughts on the film that go much deeper than this Blu-Ray review. When it comes to the home video release, it is truly special. First of all, this is a film that is worth owning. We can see witnessing it repeatedly over a lifetime, and that alone is worth the price of the product.
But, the bonus features delve further into the making of Coogler's second incredible film in a row, explores the budding star power of Jordan and celebrates the Oscar nominated turn of a legend and an icon, Stallone. Not to be left out Tessa Thompson, who stars as Creed's love interest Bianca, shows us why she too is a special talent whose role in Creed is clearly just the beginning.
Know The Past, Own The Future is the crown jewel of the bonus features. It not only gives the viewer a slew of interviews with Creed's stars that provide priceless insight into the making of the seventh film in the Rocky franchise, but it presents a history lesson for those looking to look back or learn about the history that started when Stallone penned Rocky in the 70s and went on to win Best Picture and Best Screenplay.
What else is so fascinating about this featurette is how it is truly like a relay race. It features a celebration of Rocky and the world that Stallone created and help mold over the decades. But, then the baton gets handed off to Coogler and Jordan to discuss how this Rocky world is now Creed's. It truly is a well thought out, brilliantly executed and savvily produced almost-15-minute short doc. By the end of it, do not be surprised if you're not only ready to witness Creed again, but find yourself craving going back to the beginning and having yourself a Rocky marathon.
Given that the focus of this film, truly, and now the franchise, is Adonis Creed, Becoming Adonis is a fantastic look at not only the brilliant talent of Jordan, but the physical prowess of the man who had to train for over a year to become a cinematic boxer that felt as authentic as anyone who gets in the ring on any given weekend. Sure, the focus is on his training regimen, but by shining the spotlight on that, the team behind the Creed DVD give us invaluable insight into the lengths that Jordan will go to get into any role he tackles. Although we believe his lack of an Academy Award nomination was a true Oscar snub this last year, it's easy to see that this is a talent that will one day be holding that golden statue.
There are also 11 deleted scenes that are a fascinating look at Coogler's choices and why he is a filmmaker to watch. They are interesting, entertaining and add some insight into the film… but it is easy to see why they were cut for time and dramatic power.
The only complaint we have is that we wish that there was a Coogler commentary track to the film. Given that this astonishing piece of Hollywood entertainment is largely as fine as it is because of him, having his insight into what went into various scenes and soon-to-be iconic moments in this new Rocky world, would have been a terrific addition.
Film: B+
Bonus Features: A-