Sicario, one of The Movie Mensch's top 15 of 2015, has come home on DVD and Blu-Ray. Between the astounding film itself and the impressive extras, 2016 already has its first must-own home video release.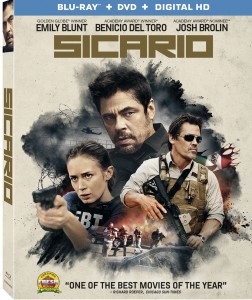 Emily Blunt, Benicio Del Toro and Josh Brolin star in this drug war film that is as timely as it is timeless. The powerful expose of the U.S. so-called war on drugs takes a personal angle in that it focuses on Blunt's FBI Agent, who is drafted into an undercover intergovernmental task force operation with Brolin's mysterious government agent (most likely CIA) and Del Toro's Mexican double agent putting her in the crosshairs of a battle that takes place on both sides of the border and knows no border when it comes to the lives it takes.
Denis Villeneuve (Prisoners) powerfully directs this compelling and thrilling tale, and with his Oscar-winning cinematographer (Roger Deakins) working the camera, it is a stunning study in mood setting through landscape. The viewer feels like they're in the film, and with every turn and twist of the plot, one is drawn further into the undeclared war that is so costly and, as we learn from Sicario, will never see a victor — only losers.
That leads us to the bonus features and the one we have to highlight, Stepping into Darkness: The Visual Design of Sicario featurette. Villeneuve and Deakins take us behind the scenes to show off how they came to decide on the mood, cinematically of the film as well as their collaborative methodology that has Sicario painting brilliant strokes of light on a subject that could not be darker. .
Casting is everything, as so many directors and producers have said in the past, and the big three of Sicario prove that the casting director and Villeneuve outdid themselves with their latest with Blunt, Brolin and Del Toro. The talented trio get the spotlight in our second favorite featurette, Blunt, Brolin & Benicio: Portraying the Characters of Sicario. It is not an easy task to play someone who is not necessarily revealed through exposition early in a picture and the performers of Sicario took that challenge as a badge of honor. Hearing them divulge their thespian secrets of finding their inner onscreen souls is nothing short of a priceless lesson in acting at its best in the modern era of filmmaking.
A Pulse from the Desert: The Score of Sicario featurette also is an important addition to the Sicario home video package. As much as the look and the prose drive the story, it's almost like the score by Jóhann Johansson is an equal element in making Sicario the heart-pounding tale that it is. The Oscar nominee (for The Theory of Everything) could easily see himself nominated for a second Oscar in a row for his work on Villeneuve's film. It's rare that a composer's score gets a DVD and Blu-Ray featurette focus. We could not be more delighted that this package contains a deeper look at the sound of Sicario, given the importance it gives to its sights.
Finally, Taylor Sheridan's research for the script went deep and it shows on every frame of the film. How that all came together is brilliantly captured on the Battle Zone: The Origins of Sicario featurette. It is such a complicated subject matter with a breadth of information that had to be uncanny to overcome and yet how Sicario comes together in a coherent and majestically powerful film is spelled out gloriously in the Battle Zone documentary short.
Film: A+
Bonus Features: A