Steven Spielberg and the folks at Walt Disney joining forces to bring a beloved and iconic book by Roald Dahl to the big screen? Yes please! Well, the first teaser trailer for The BFG has landed and we've got your first look at the children's classic (that stands for Big Friendly Giant).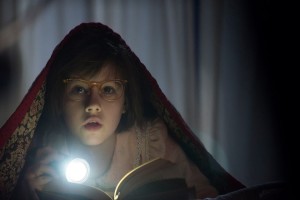 The BFG chronicles the friendship that develops between a young London girl, Sophie, and well, The BFG (Mark Rylance). Although he is a kind soul, he is nothing like the other giants in Giant Country. They tower over humans at 24-feet tall and have an astute sense of smell and huge ears. Other giants that fill their homeland include Fleshlumpeater (Jemaine Clement) and the Bill Hader-portrayed Bloodbottler.
Initially she fears him. See, The BFG has taken Sophie — against her will — to his homeland and although initially she is taken back and frightened by this world, soon, she realizes that The BFG can be trusted and should not be feared.
The film is directed by Spielberg and it reunites him with his E.T. screenwriter, Melissa Mathison. Look for it to land in theaters in 2D and 3D on the 100-year anniversary of Roald Dahl's birthday, July 1, 2016.