Brie Larson stars in Room and it is a tour de force performance that has labeled her the "front-runner" for the Best Actress Oscar at this year's Academy Award. It's a haunting portrayal of a young woman who is kidnapped at 17 and spends two years and complete solitude being abused by a man who has her barricaded in a tiny room/shed that lies behind his house.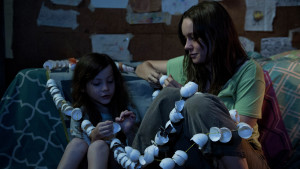 As her third year of captivity begins, she learns she is pregnant. Suddenly, despite all this horror, there is a light in her life that is her son. Over the next five years, she raises her child and does her best to convince her little one that this Room is the entire world. When she feels he is old enough to comprehend that there might be more to the world, she plots their escape.
The Movie Mensch caught up with Larson at a recent press day for Room and the actress admitted that this was one of the more mentally challenging roles she's ever undertaken and discovered ways to keep herself grounded, while still staying true to creating a character that could challenge anyone's sense of emotional sanity.
"You have to find a way to shake it off. There were many things I did like really being open with my friends and family. Making sure that they called me constantly and reminded me of what my name was and sent me care packages," Larson admitted. "I even would take a piece of paper and draw a line down the center and write 'Brie' and 'Ma' at the top and list all the things. You can very clearly call back on that."
When tackling the character, she turned to the book by Emma Donoghue (who also beautifully wrote the screenplay) and began by trying to understand how one can mentally process two years of utter silence at the age of seventeen – a time when humans are anything but quiet.
"There's this sense of sitting with yourself, and imagining Ma at 17, 18 or 19 years old, sitting with herself in a way that most teenagers don't. That's a period of time where it's all just getting away from everything, wanting to move out, and pushing away a parent," Larson said.
"It's about taking this bizarrely mature experience and set it in a horrible setting, and having to come to terms with who she is now as this new individual she's become that's completely separate from her friends, her home and her parents."
Then the emotional axis shifts. She becomes a mother. "For me, it was just about trying to see what that felt like, with the painful moments of it and the beautiful moments of it. Having that time to just very simply reflect, I felt like it became a huge part of getting to know her better," Larson added.
Larson is a self-professed homebody, so she was able to begin there and then found ways to bring in elements of her own life into the characterization. "I meditate, so I was a little familiar with trying to get to mental silence and how hard that is. I have some friends who have been on silent retreats and I was fascinating by the reactions. Some of them could go ten days, and they'd do it every year because it's this time they absolutely love," Larson said.
"You're not allowed to speak to or look at anybody because that's also seen as a form of communication. There's no connection to the outside world."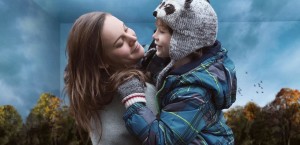 There is a stunning connection between Larson and her onscreen son. Jacob Tremblay turns in a haunting performance that also should be considered come awards season. The actress said that connecting with him helped her understand how a mother would go to the ends of the earth to plot the harrowing escape that is central to the film emotional powder keg third act.
"When she discovers she's pregnant and there's this new thing to fight for that's outside of herself. I had some amazing conversations with my mom. I'm of the age where a lot of my friends are having children of their own," Larson said. "Your heart grows three sizes."
Room is resonating with anyone who sees it and it will surely be at or near the top of The Movie Mensch's best of the year list. For Larson, she hopes if nothing else, it will have audiences cherishing the smaller things and the truly important things in life.
"This is taking a story that we had seen in the news, but reminding us of our roots of where we came from," Larson said. "It's a real universal love story and a story about growing up and the pains that go with it."
Room is one of our 15 must-see films of fall, what others made the list!